Nortel has launched the SCS500. This communications system effectively provides companies with a cross between the features offered by Timico on their Nortel AS5200 hosted VoIP platform and the Nortel BCM phone system.
Timico has found that many companies want to use Instant Messaging in their business but beyond insecure consumer products such as MSN and Skype don't know how to do it.
Timico's VoIP for Business service provides IM and is great for businesses where there are lots of distributed locations or many homeworkers. Our real world experience shows that as companies get bigger their needs change and we then sell them a Nortel BCM.
The SCS500 adds neatly to the portfolio with IM and other Unified Communications features. We can now cover pretty much every need of every sized company in our customer base and target market.
All credit to Nortel they have been making great strides to the extent that the Financial Times newspaper recently rated their stock as a "buy". Their leading position in the Unified Communications market is a reflection of this.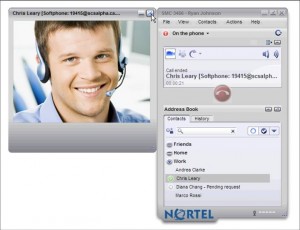 This a picture I pinched from the Nortel website. It shows the SCS500 soft client. I don't know who Chris Leary is but a larger image would shou you that he needs a shave 🙂 .