The twitterstream was full of references to the new iPlayer App for iPad and Android this morning so I naturally dived in and downloaded. I have to say the experience is top quality on both. The colours are great and the TV is very watchable on both size screens.
What really came into my mind though was not the fact that I now had a new app on my devices but the fact that this was yet another driver for bandwidth use and also the question of the TV license.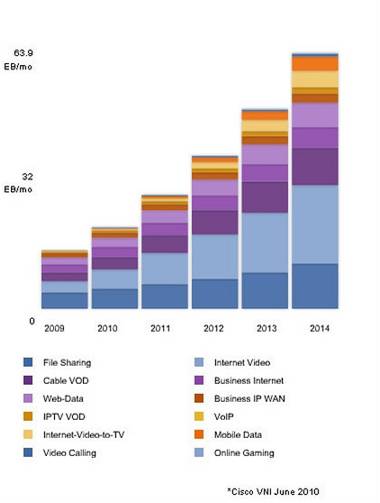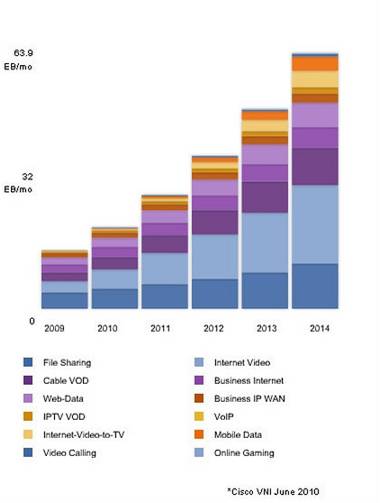 The chart on the right is Cisco's growth forecast for internet bandwidth use – a 4x growth between 2009 and 2014. Much of this as you can see is driven by video. The Y axis legend is in ExaBytes/Month!
A one of the World's best content provider the BBC really is one of the drivers of this (Ok YouTube et al are also contributors) and making iPlayer easier to access on more and more devices adds to the proliferation. Of course this also adds to the pressures on ISP networks and fuels the NetNeutrality debate butthat is not for this post. Grown up ISPs will manage their way through.
The debate about the TV License fee is however another issue. The BBC has said that it is not going after non license payers watching using iPlayer online:
"Well, the number of homes that currently have no television licence, but that do have broadband subscription is currently estimated to be infinitesimally small. The chances are if you want to watch BBC TV programmes via catch-up over the web, you are also watching some BBC programmes at other times, live or time-shifted, via a TV set, and will already have a TV licence. "
This situation will possibly change quite quickly over the next few years.
You only need a license if you are watching live TV which the BBC is now promoting using the iPlayer App. My question is whether the BBC is able to identify online users? The chances are they will only have an IP address to go at which is going to raise the same issues as we currently see with the Digital Economy Act and the RightsHolder industries (of which the BBC is a member). Unless that is the BBC has some spyware embedded in its iPlayer App that somehow records data on who is using it – via  iTunes username perhaps?!
The other notweworthy point is that apps like this are also fuelling the demand for newer faster smart phones. The iPlayer App for Android needs a fast processor to run Flash. It will inevitably evolve towards more and more HD content which will use more and more bandwdth and need faster and faster processors etc etc etc.
We do live in interesting times. BBC statement on iPlayer here.  BBC position on TV License for online streaming here. Header photo (click to see more) is of iPlayer App running on both iPad and HTC Desire HD (Android).
More TV related stuff: