I am pleased nay thrilled to report back from last night's ITSPA Awards that Timico received the Highly Commended Award for Best ITSP (Large Enterprise).
The ITSPA Awards were held at the top of the BT Tower (Post office Tower to those over a certain age) which is a wonderful venue and all thanks to BT for hosting.
A couple of years back Timico won the best Unified Communications Award. Last night was a particular milestone for us as we have been expanding our horizons to work with larger businesses and this Award really reflects a lot of hard work that has gone into developing our proposition for that market.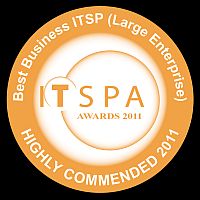 Most ITSPs in the UK plant themselves firmly in the SMB space. Timico is able to play in a bigger market because unlike many ITSPs we are a fairly substantial ISP in our own right and an established MPLS networking business brings with it many opportunities to service the voice requirements of larger customers using our Genband A2 VoIP platform. The Genband platform coincidentally also won an award last night for best VoIP infrastructure.
The winners of the Large Enterprise Category were Virgin Media Business. We'll beat them next year 🙂
Details of other ITSPA Awards cateorgy winners can be found here.