People who know suggested I should move phone operations from HTC Desire HD to Samsung Galaxy S2 so I have. My main motivation (and you have to take this as read) is not to just have the latest and greatest gadget. Things are moving so quickly in the tech world that I need to stay in touch with the art of the possible. It would also be a good exercise in seeing how easy it was to do the migration.
In reading this post you have to consider that I am not a gadget freak and I don't spend my life understanding the nuances of different versions of OS or processor hardware specifications. I may therefore make mistakes in setting up a new phone that the geek would not but in this I can't be any different to most people. My other criterion for success is that I shouldn't have to rtfm, ie have to look something up in the online support.
I have two benchmarks for comparison – the HTC Desire HD and the iPad both of which broke new ground for me.  iPad was very easy to set up but has clear deficiencies and the HTC represented a learning curve in smartphone tech.
The features I use most on the HTC are Tweetdeck, Dropbox, camera, voice recorder, internet and gallery, mail, calendar, sms and foursquare with a smattering of Bambuser,and ESPN (seasonally) thrown in. I use the internet rather than plugins to access Facebook (keep in touch with my kids) and LinkedIn (rarely) as I haven't found these plug ins to be much cop. For some reason I don't use the phone for Empire Avenue and I'm actually currently struggling to get my brain round why I might want to access that particular network.
So in moving from HTC Android to Samsung Android it would be useful for me to see how seamless it was migrating these apps and also the registration credentials, noting how much of a pain it is to have to remember all these account details.
It must be said that getting up and running with the S2 was less of a joy than I have been expecting and this has to be largely down to differences in user interface.
When using the HTC all the apps I have downloaded from the Marketplace are listed somewhere. I expected this list to also be available on the Samsung. It was not so I had to reinstall them all manually, individually. Not a huge problem but it would have been nice for this to have all been automatic. It all adds to the time involved.
After inserting the SIM I was also faced with what seemed to be a barrage of install wizards. Google registration was a no brainer but the Social Hub was different. Attempts to input username and password details for Facebook et al were rejected. I thought I must be missing something and parked that bit for later. At home I registered using the plug ins and it worked fine. It is only days later that I now realise that using the wifi at work the firewall was blocking some sites.
Getting basically up and running I have now been using the handset for 4 days.
Pros
Nicer screen
Much better voice / sound quality
Off switch is at the side rather than at the top – I used to accidentally switch off the screen when holding the HTC
Works much better with 4sq. When I take a picture when checking in on 4sq I often got a black screen on the HTC. This doesn't seem to happen on the S2 which must be down to faster processor/better software.
To answer a call you have to slide the icon – not press it like you do on the HTC which has often resulted in my answering the calls whilst getting the phone out of my pocket and hten subsequently accidentally terminating the same call thinking it was being answered. This now never happens with the S2 though the slider doesn't always work perfectly with my finger – sometimes it takes multiple attempts.
It is still early days but the S2 seems to be much better at conserving power. I still keep the comms switched off until I want to use it out of habit and I expect this would still be a big drain on the battery but you do seem to get better battery life. Some of this is likely down to the setup – shorter idle time allowed before screen goes into hibernation for example.
The on off function for wifi, Bluetooth, GPS et al is also part of the drag down notification bar which is very useful. Unfortunately this doesn't have a button for 3G so I still have to go into the phone settings to switch this on and off and moreover I have to scroll down to find the relevant line to enable/disable.
At 8Mpixels the camera on the S2 seems better than I had on the HTC (6Mpixels I think) although you can't disable the shutter click sound which is a real nuisance if I want to take surreptitious photos of my kids – they don't like having their photo taken as I do it so often (140GB on my hard drive!). I haven't used it much yet but the HTC was not great in low light and I am hoping this will be better.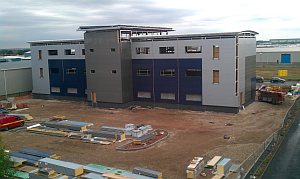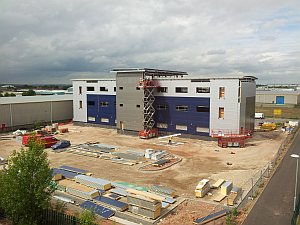 The above photos are of the Timico datacentre using the HTC (left) and the Samsung (right) from exactly the same positions – different days but similar lighting. I guess the higher Megapixel count of the S2 would account for the bigger picture – they were saved to the same width.
Cons
The telephone function is not as good with the S2. It seems to take more button clicks and I prefer the look on the HTC. The call logs do provide you with an easy way to chose between voice call, sms and video call though which is good. I now also seem to have multiple instances of the same contact.
Manually reinstall each of my frequently used apps – covered earlier on the post.
I tried transferring the first batch of photos onto my laptop and could see absolutely nothing in the memory. Turns out you have to install proprietary Kies software to make it work. I did this and that solved the problem. Shouldn't have needed to download the Samsung software to do it though. Also I had to rtfm!
This does bring up an issue generally with these different Android handsets and that is each manufacturer offers its own added value bolt-ons/portal etc. These bolt ons make it easy to back up and synch address book for example, find lost phones and track downloaded apps. However they appear to be different for each vendor. In other words HTC has something that cannot be ported to Samsung (must say I am not yet an expert here – maybe I am missing something). What the Android world needs is a generic feature that does all this that will allow me to port from Samsung to HTC to ANO. Single vendor environments don't have the problem.  Apple fanbois will gloat at this but if you stick with a single vendor I suspect the experience will not be far off the iPhone (and you will be able to view flash videos)
I am also still getting to grips with some of the features though the learning curve is not as steep as it was with my first Android. One that has stood out is the quality of the voice command function. This didn't work particularly well for me on the HD but it is a big hit on the S2 and is light years away from the Dragon voice rec software (I think it was called dragon – might be wrong) I bought about 10 years ago!
Overall the Samsung Galaxy S2 is clearly a step up from the HTC Desire HD. It would be interesting to compare the S2 with the latest HTC but I can't spend all my time reviewing smart phones. This rapid pace of development is also going to pose a real problem for consumers who will be driven to switch handsets far more often than they have before, at a time when these devices are still very expensive.
I'll revisit this review in a month or so for an update.