We breed 'em hard at Timico.  Inset is a photo of Timico engineer Gareth Bryan1 who during long weeks out on the road doing customer installs developed a penchant for hot food. Rather than sit in his room at the Marriot/Holiday Inn/Thistle  Travelodge he would seek out the nearest curry house and experiment with his passion for Indian food. After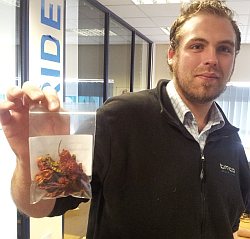 months of this he has built up an immunity to your everyday vindaloo.
Now promoted to third line tech support and in the office a lot more he no longer has the same opportunities to indulge during the evenings and been driven to experiment with home cooking.
Gareth, who today passed his CCNA exam with flying colours (well done mate),  is holding a small packet of Dried Naga Bhut Jolokia chillies grown in India and supposedly 4,000 times hotter than Tabasco sauce.  In other words absolutely lethal. So lethal in fact that Diane our Health And Safety person has made him sign them into the Timico dangerous deliveries and noxious substances book2.
They smell disgusting – using asbestos protected nostrils I did approach the opened packet.  I can't imagine they are ever actually consumed. They must just be one of these lads trophies; something to have on the shelf but surely nobody is ever stupid enough to eat…?
The chillies are available online here. FTTC is also hot stuff at the moment looking at the surge of interest in the relevant pages on this blog. You can buy that here  🙂
The title by the way is somewhat misleading for which I apologise. Gareth is not challenging anyone to a chilli eating contest. Surely!
1 Gareth incidentally, is 6'9" – that's six foot nine! Whenever we buy a new van we send him out to sit in the drivers seat just to make sure it has enough headroom.  If Gareth can fit in the van then anyone can 🙂
2 I must be reading too much Harry Potter – I'm not sure we really have one of these but something tells me it is only a matter of time.
PS I was asked to write a post about bonfire night. I will do but that is too far in the future.  3 days is a long time in internet terms.