You may have gathered from the post on Friday that I was off to Cardiff to watch the rugby over the weekend. There were four of us in the car – two adults and two "young adults" and I was in the luxurious position of not having to drive.
You have to picture the scene. My pal Huw driving with me on the laptop in the front passenger seat and the two kids on iPad and iPhone in the back. The connectivity was ok by and large. I guess that means that when we went in and out of data coverage we put up with it because after all, we were driving along in a car at 70mph.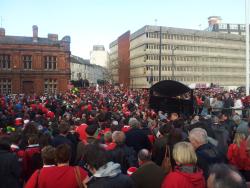 This must surely be something that one day in the not too distant future we will look back at in amazement – "believe it or not you used to get black spots with no coverage". Our use of mobile technology is growing at such a rate that it demands nay shouts out for ubiquitous high speed data connectivity.
This may mean that we have to pay more for the service.  As the models change to reflect usage growth we are already seeing upward pressure on data prices in both fixed and mobile worlds. At this stage of the game for me, and I may be a consumer lone voice in the wild wild mobile web here,  it is more about coverage than cost. My kids may not agree of course but on the way down I needed connectivity for emails and other work stuff and on the way back I wanted to watch Wales beat Italy on iPlayer. I was fine for emails but not for the streaming.
There is one thing in particular that the mobile data and computing revolution will render obsolete and which relates to kids when travelling. The first person to guess what this is wins a prize. This is normally a mug but I may be able to find some other goodies and if so will offer the winner an alternative. Timico staff may enter this one.
As a footnote here in Cardiff we stayed with my sister who gets north of 30Megs out of her Timico FTTC.  Aaahh. It was also interesting to see that the last thing we did after our evening mug of cocoa was that before going to bed we all made sure our gadgets were plugged in and charging ready for the next day 🙂