If it's Tuesday it must be London. Not if you're a tourist. I'm down here for meetings but the place is remarkably calm. No queues at the taxi rank at Kings Cross Station, not many people around.
The taxi driver told me it has been one of the quietest summer he has ever seen. The regular tourists have stayed away. I've even been able to get a great last minute deal on 5 star hotel at a rock bottom price – only a few quid more than the Kings Cross Travelodge that is my usual haunt.
The London2012 games will soon be upon us and excited I am. I'm confident that they will  be a huge success and the PR failures of Locog will fade from the national memory (not mine though – i don't forget these things:).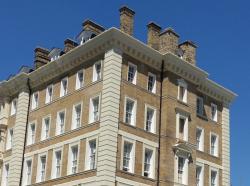 I'm taking a chunk of the Olympic fortnight off. Not all of it – I'm off to a British Business Embassy meeting with Dave, George and Vince (apparently) on Friday 3rd August. If you're going I'll be the one wearing a suit! (I know – WTF do I hear you say?).
I'll be with son number 3 (kid4) at the Team GB versus Uruguay clash of Titans at the Millenium stadium and with sons 1,2 and 3 (there are no more as far as I am aware) at the Kayak Slalom finals at Lee Valley wild water rapids fun centre.
Then the following week I'm at the ladies high diving final with Cisco, the men's handball semi finals with KCom (yea I know – I'll tell you what handball is when I get back from holidays if I remember) and then finally I'm with BT Wholesale at the closing concert in Hyde Park on the Sunday.
Thanks for all the invites for what are very important relationship building networking occasions.
I did um and ah a little about revealing all these tidbits but what the heck. Life is for living.  The Olympics will not be here again in my lifetime and it is a useful way of building up to saying if anyone wants to invite me to the athletics at the Olympic Stadium itself then there is a fair chance they will become my new best pal. Preferably Mens 100m or 200m finals or any other blue riband event.
Catch you later, maybe…