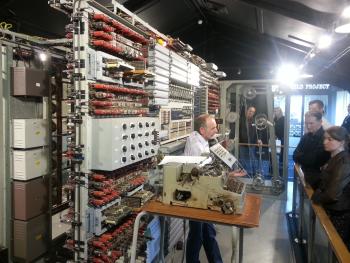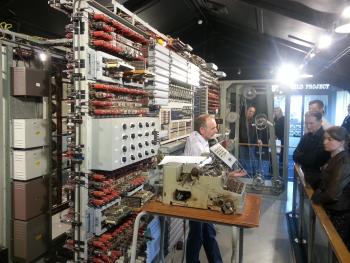 This week we have a fantastic membership of the Spirit Health Club in Aylesbury to be won. The Spirit Health Club is one of the top fitness destinations in the South East and whether you live in the area or just pass through occasionally on your way to a data centre in Docklands this is the prize for you.
All you need to do is provide a caption for the photo on the right. The picture is of  Phil Hayes (Colossus Rebuild Engineer) stood in front of the Colossus computer at The National Museum of Computing at Bletchley Park.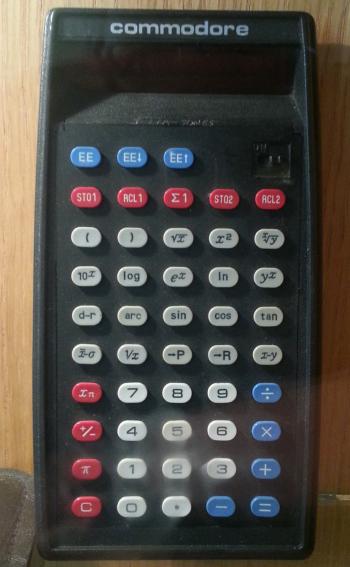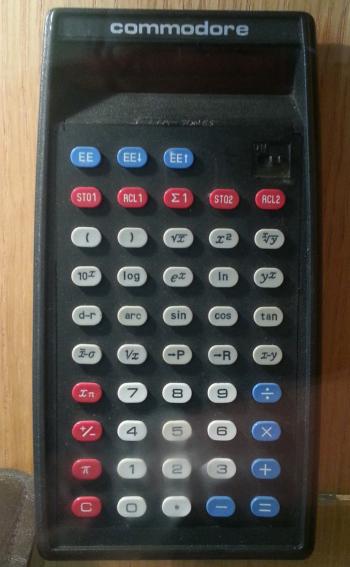 The photo was taken at the IPCortex 10th birthday fundraiser for TNMOC last week which brought in a couple of grand for the museum.
The prize has been donated by the Spirit Health Club Aylesbury1. Club facilities include fitness suite, swimming pool, a wide variety of studio classes, sauna, steam room, and spa pool. Lifestyle consultants provide a personal touch by giving one to one guidance to help members achieve their fitness goals. Services available on site (but at additional charge) include beauty treatments, personal training, physiotherapy, massages and reflexology.
All sounds great doesn't it. Good luck with the caption competition – just leave your entry as a comment. You can have until the end of this week to enter.
The second photo is of the Commodore Calculator on display at TNMOC. It was the first and only calculator I ever owned and I used it extensively around the time I was studying for my O'Levels. I still have it in the attic somewhere though it long ago stopped working 🙁
1Please note that the membership is valid for the Aylesbury branch only – Weston Turville, HP22 5QT.