I'd like you to hold out an arm at full stretch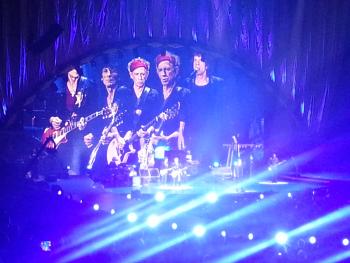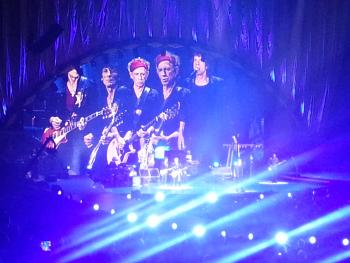 with your little finger sticking out. Left or right arm – it doesn't matter which. In the mid 80s I went to see Bruce Springsteen at Roundhay Park in Leeds. There was an enormous queue of cars coming off the M1 to get there and we eventually had to abandon ours in a side street and walk the rest of the way. When we got to the park it was packed and we were so far from the stage that Bruce was half the height of the fingernail that you see before you, assuming you followed instructions 🙂
Last night at the Rolling Stones concert at the O2 was a different story. Thanks to the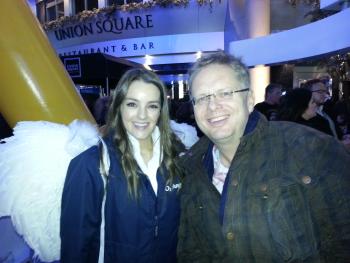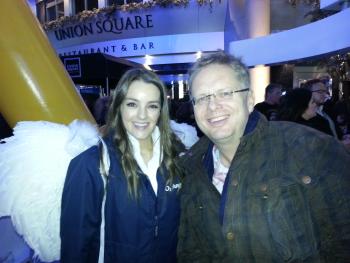 generosity of O2 we had great tickets – maybe two cricket pitch lengths from the front of the catwalk. Mick Jagger was two or three times the size of that fingernail.
You'll all have read or heard the reviews already so there's no need for me to go in to detail. I will say that Mick's voice was incredible showing no signs of age.  Although most of the band looked pretty shrivelled the quality of the entertainment was top notch and we got to see Bill Wyman, Mick Turner and Jeff Beck join them at various stages of the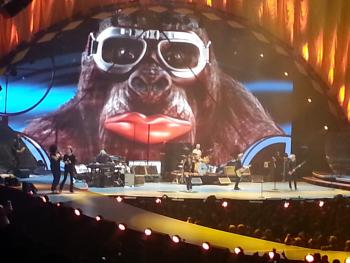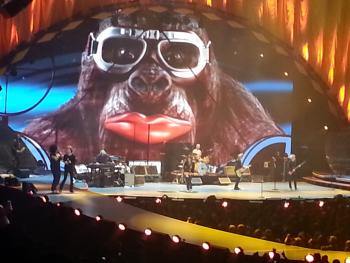 evening.
The O2 as a venue has to be the best place I've been to see a concert. The sound quality is great and it is really easy to pop to the bar to bring drinks back to your seats. We had access to the O2 lounge which meant we could check our coats in and grab a couple of cocktails before the band came on stage. The lounge also has a lift that takes you up to just behind where your seats are. Life is made easy.
The only disappointment of the night was that they didn't play "Satisfaction". Apparently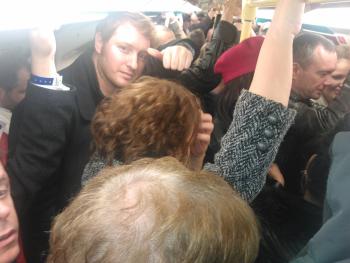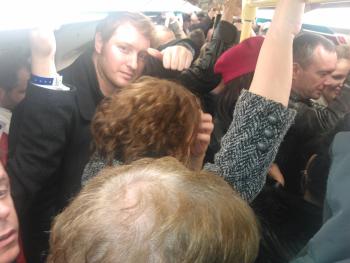 they were running late and hit the hard stop time of 23.00hrs. They were on stage for nigh on 2hours and 30 mins which is good going at the age of seventy.
After the gig we hit the O2 lounge again and just managed to catch the last westbound tube at 23.45. Would have been a bit of a problem had we missed that. There is no way we could have caught a cab with that many people there.
The short tube ride into town was a story in itself. We were crammed in like vacuum packed sardines – not the ordinary tinned variety swimming in tomato sauce. I wanted to take a photo but my phone had run out of juice so a friendly Dutchman named Robert Jan Pabon did the honours and then emailed it to me. The power of communication. Robert was there with his wife Katja. Lovely couple. We got very close, on the tube – there was no choice :). Thanks for the pic Robert. Have a safe trip back to Holland.
The guy in the photo is Dan Cunliffe from O2. Top bloke. You have to hand it to O2. They know how to do business.
It strikes me as I write that the world has changed massively since the Stones started their careers. At the time there would have been no Personal Computers – we are talking almost back to the days of Colossus at Bletchley Park. No mobile phones, no internet. Even the TV probably had only two or three channels (all you need) and was in black and white. All they really had was sex and drugs and rock and roll. Ahh the good old days…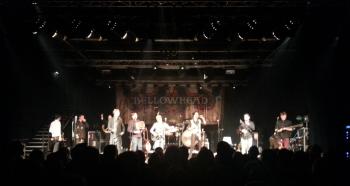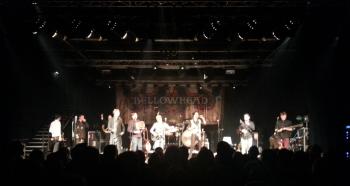 I'll leave you with the observation that it's been a weekend of gigs – the Rolling Stones last night preceded by Bellowhead at the Engine Shed in Lincoln on Friday. Bellowhead were fantastic and I urge you to go and see them. I bought their LP – my first vinyl purchase for perhaps 25 years. Apparently it's coming back into fashion. Get with it you lot.
Thanks again to O2 for a terrific Sunday evening out. Quality.
PS check out the crowd video here.
PPS you can put your arm down now!