I bought a kettle last night, or at least Anne did when she was in Tesco. Uhuh I hear you say?
The new trefor.net offices (room 18 in Sparkhouse Lincoln) are in a managed offices building purposely built for startups. It's great fair play. The only thing is that in finding one's feet (if one may express it in that manner) one finds the little idiosyncrasies (I had to check the spelling of that word) with one's accommodation. At least they are things that you have to get used to (slipping back into the vernacular).
This little idiosyncrasy is that the kitchen doesn't have a kettle. I saw someone wandering along the corridor kettle in hand and thought oy oy, nicking the kettle eh? No as it turns out. Everyone has their own kettle. Fair enough.
Yesterday was my first day in the office. I bought a cup of tea from the caff downstairs. It cost £1.65 or something similar – large one of course. Not sustainable though. This is a start up for goodness sake. At umpteen cups of tea a day we'd very soon be going back to the well for refinancing. I'd rather keep the funds for beer.
For the rest of yesterday I contented myself with drinking water from the recycled cardboard cup that the caff had given me.
Today on the way down to work – it's a 30 minute walk from my house – I'm expecting the pounds to drop off – I stopped off at Tesco Express and bought a pint of milk and a box of PG Tips. When I got in I made a cup of tea. In yesterday's cardboard cup. I forgot to get a mug.
Later on I'll pop out to Debenhams and treat meself to a new mug. You can do that when you work for yourself you know 🙂 ! It's only round the corner. Handy.
I did wonder what the etiquette for leaving milk in the fridge would be. Will it get nicked if I leave it there? Others seem to have taken the risk so I've scribbled the letter T in biro on the lid and put in in there. What's the downside? 60p? I could always pinch borrow someone elses 🙂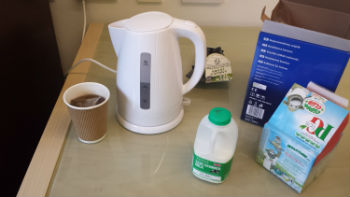 Aside from the mug buying decision I think I've also just about decided to invest in a small drinks fridge for the office. The sort with Budweiser branding etc. I'm not a Budwiser drinker but it looks cool enough (pun not intended – it just slipped out). That way I can also keep other forms of liquid in the office at the correct temperature.
The inspiration for this was Sir Terry Matthews who has, or used to have a drinks fridge in his office. V civilised I'd say. I'll keep you posted re the fridge and the mug. I know it will be of interest. I'll also have to get some trefor.net branded mugs done at some stage. We will have to get the megamug competitions going again.
Just to finish off on the right is a photo of the current brewing setup.
ttfn.