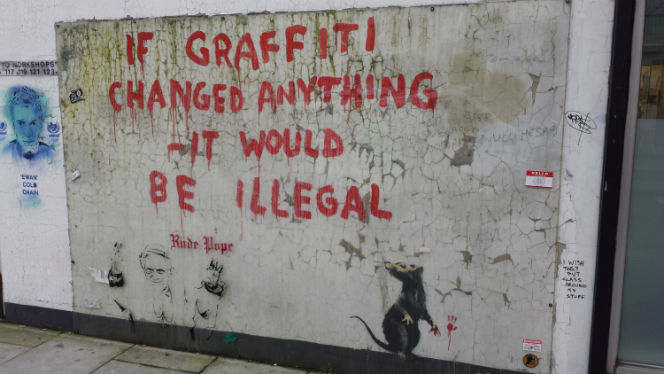 Got together with the LONAP board yesterday to go through arrangements for next week's AGM. It's been another year of growth. Better not tell you any more at this stage or I'll be spoiling it for Tuesday.
As a not for profit we try to keep overheads down and yesterday we borrowed a meeting room off Vision IPTV in the shadow of the BT tower.  On the end wall of the building was a Banksy. My first one! I was thrilled.
Apparently when the council leased the building to it's current occupiers they wanted to charge them extra because of the Banksy. That angle didn't work. Then some time later someone else in the council decided the mural was getting a bit worn and wanted to paint over the whole lot!
That's when Vision IPTV decided to place a clear protective screen over it.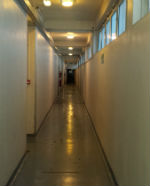 There's not much else to report other than the meeting was held upstairs in what appeared to be a building right out of a 60s cold war movie. I could imagine Michael Caine striding up to me, leather shoes echoing along the corridor, saying "My name is Harry Palmer".
We all sat in the meeting room jointly editing the slide decks for the AGM in the LONAP Google Apps Drive space. Internet connectivity was provided my my EE 4G  MiFi dongle. I was getting 16Mbps – perfectly adequate for 4 laptops hanging off it.
London is a bleak place in January. We finished our work and retired to a warm pub, an old favourite, The Lamb (Conference Room L) in Lambs Conduit Street, for a cheery pint and a chat about life, the universe and internet connectivity.
All work and no play makes Tref a dull boy. As you know:)