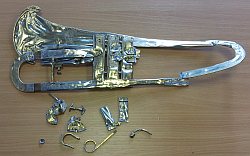 Google Glass mk2 to have rear facing camera?
I went to a jazz gig last night, in a church. One of the kids plays in an award winning big band and it was the first show of the 2014 season.
Being in a church we were all sat in rows on pews and it being a community event we knew a few people there.
The problem with this is that if you want to turn around to chat to the person sat on the row behind you it is quite awkward to turn around to face them, when you are sat on a pew. This is an evolutionary opportunity.
Clearly, over tens of thousands of years, we humans will evolve to grow eyes in the back our heads. It must be so because there is already a popular saying about having "eyes in the back of my head", largely associated with parents of families with small children.
However in this modern fast moving technology dominated world we aren't going to be happy to wait thousands of years for this evolution to happen. There must be a tech alternative.
The answer is Google Glass Mark 2. I realise that Google Glass Mark 1 isn't yet mainstream but it is blindingly obvious where the product is going. It is going to have a rear facing camera. They already have them in phones so why not in wearable devices.
The rear facing Google Glass Camera has many uses. It will be a great help in the situation I have just described. There will be no more uncomfortable body twisting scenarios often resulting in back or shoulder strain. It will take time for people to get used to talking to the back of your head. This often happens with new device introductions but get used to it they will.
Some (initially premium) models may well come with a small rear facing monitor – thumbnail size so that it remains unobtrusive – showing your avatar (register one here). This tech in itself will advance. It won't be long before the person in front of you can tag your face with their  own rear facing camera. You will be able to tap in to their video stream of your own face and project it to your rear so that the person you are taking to sees a moving image of you synchronised to your voice.
This new technology will result in massive productivity benefits and cost savings.
People will start conducting meetings sat in long rows. Meeting rooms can then be designed to be thinner and you will be able to get more of them in the same amount of space – the problem of not having enough meeting rooms will be a phenomenon of the past. The (most junior) person sat at the front will content themselves with seeing the face of the person behind on his or her own Google Glass lenses
No longer will there be embarrassing gaps in the queue at the company restaurant during lunch hour. This often happens when the person in front turns to talk to you and thus does not notice that the queue has moved on. Now they will be able to keep looking straight forwards and just talk to you through their Google Glass mk2. Vital seconds will be saved and workers will be able to spend more time at their desks.
There will be many more applications for this – keeping an eye on the kids being the obvious mass market one but others will surface. If any readers have suggestions of applications for this technology I will happily pass them on to Google.
You heard it first on trefor.net…
Click here to see a Bb trumpet being flattened by a steam roller.
Click here to see other gadget related posts.
You can check out the Jazz Vehicle Facebook page here. Contains advanced notice of forthcoming gigs. Better be quick if you want tickets. These events are brilliant and always sell out.