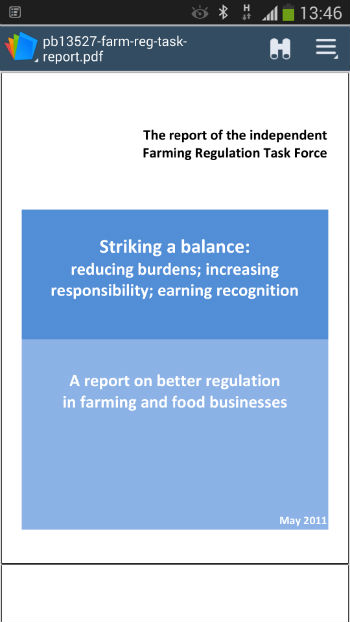 I'm on the way to Laandan and just took a look on my phone downloads for the best way of getting to the Strand. I keep a downloaded tube map on the dog and bone for occasions such as this where the train connectivity is rubbish and it makes more sense to have a local copy.
Imagine my total surprise when the first doc I came across in the downloads section was a report of a farm regulation task force. Don't ask me how I downloaded this (I can probably find out when).
It's not that I'm not interested in farm regulations I'm not really interested in farm regulations though I imagine thats situation would change if I was ever thinking of buying a farm. Or going on holiday to a farm. In the case of the latter there could be rules about letting dogs off leashes or not bringing your own sheep. Things you'd need to know.
I'm not sure if my document covers that sort of thing though. I haven't read it. If anyone wants a copy let me know and I'll email it to them. I'm not going to host it on this site. People might think it was an offical trefor.net farm reg doc or that I supported the conclusions of the report. I couldn't tell you one way or another in respect of that because as I said I haven't read it. Yet.
The fact that I have no idea how I came to download this report is an example of how easy it would be to pick up malware. I do have McAfee on the phone. I have no idea if it is effective. All it ever seems to warn me about are sms messages from WIlliam Hill which it rightly considers to be dodgy.
As far as getting to The Strand goes I'm going to take the Piccadilly Line from Kings Cross to Covent Garden and walk from there. If I didn't have my bag I'd walk the whole way. It isn't that far. Unless it's chucking it down in which case I'll take a taxi.
That's how to get around Laandan for ya gor blimey Guvner, would you Adam and Eve it, ruby murray, frog and toad.
@Cyberdoyle's first fibre network down on the farm here
Pete Farmer on Net Neutrality here
Rapidly becoming an agricultural blog this.