Broadband speed data used by Estate Agents to sell houses needs keeping up to date.
To an ever-increasing number of us, broadband is pretty darn important. So much so, that access to it (or not) can affect major life decisions. Such as where to have a coffee, or even which house to buy or rent.
If you are trying to run a business from home, broadband is essential. If you are a farmer, you need a decent connection for all the online cow passport, animal movement, SFP etc forms. If you are of school age, you need to study and upload homework. If you are isolated, it can give you access to friends, family, and the world generally. Basically, it is the 4th utility which many of us cannot live without and many people are catching up with this reality.
So, it was with interest that I saw that last weekend and early in the week, the mainstream media picked up on this with relation to house values and property desirability. Headlines such as these below.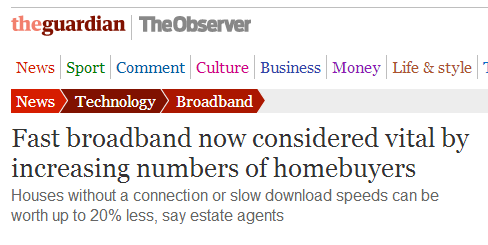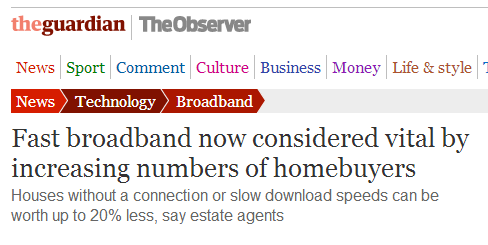 They say an Englishman's home is his castle. Well, it may be time to prepare the flaming tar barrels and deepen the moat, as it would seem our castles could be under attack. Or at least the value of them, perceived and actual.
The state of broadband in this country appears to be almost entirely out of (our) control. Despite years of endeavouring to bring those in decision making positions up to speed about what was, is and would be required, and the importance of broadband to the economy and social well-being of this country, we are proceeding at the most desultory pace towards becoming a competitive, connected nation. Think 10 years or so until we have caught up with the likes of the broadband position Moldavia, Latvia or South Korea enjoy TODAY.
The level of disinformation, poor decision making, marketing hype, and wasted money is surely at an all-time high? Which considering some of the previously truly disastrous decisions this country has made in the past for its citizens and industry, and with the public purse, is saying something.
On top of these articles was a press release from the property website, RightMove.  It seems that, realising by talking to estate agents (which I have been doing for 10 years but no-one seemed to hear what I was reporting back) that broadband had become one of the key factors in house purchase and rental, RightMove decided to add a speedchecker to every property on its website. Don't get me wrong – this is a good decision, if implemented well, but it may turn out to have unexpected consequences.
This speedchecker is powered by data provided by PointTopic. (And I hope Tim or Oliver Johnson may step in and comment here about just where that data is being sourced from).  Let's illustrate the problem with a speedcheck for a rural home. And to properly show how ludicrous these results are, let's choose a property on the B4RN network in a village where the take-up of B4RN gigabit is over 50%.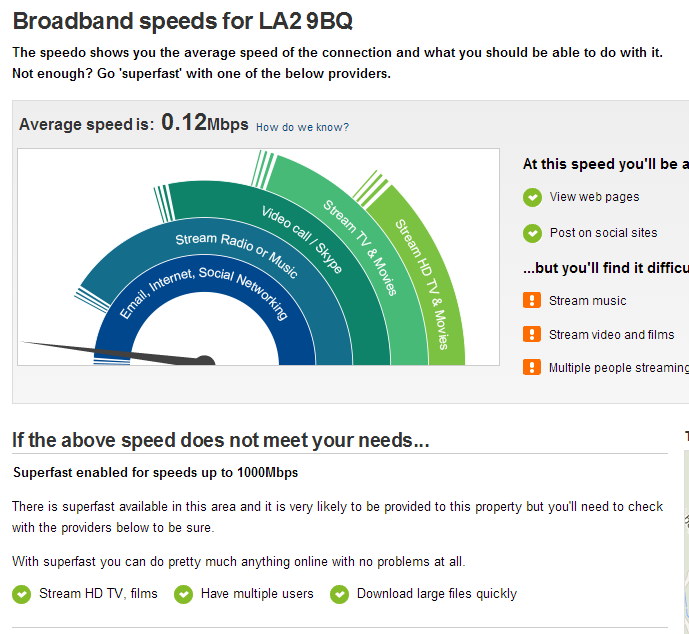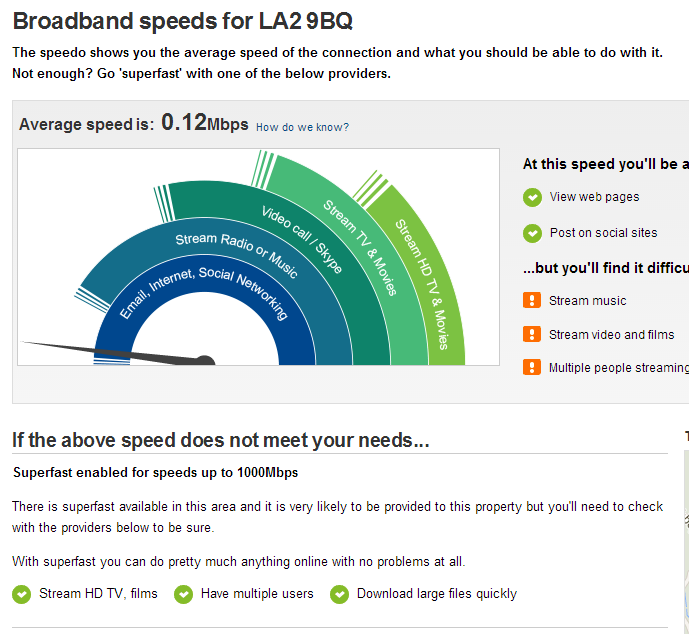 Now, I only did A Level Maths, but I'm fairly sure that the average speed (and isn't it the 'mean'?) in an area where over 50% of the houses are connected to 1000Mbps, cannot be 0.12Mbps.
Unless, not only are the laws of Physics rendered obsolete by broadband marketing, but also the basic mathematical laws that the statisticians et al rely on!
Further investigation reveals results which are wrongerer still. (If maths and physics are under attack, English can suffer too!)
We have RightMove claiming homes can already get up to 80Mbps superfast in areas which have not been enabled, either commercially or under BDUK, whilst the BT Wholesale Checker shows no VDSL data and only shows up to 1Mbps on what appear to be EOL lines. The technical amongst you can discuss how this could be possible below and provide many more examples – I know people have been running tests all week. Discussions on the accuracy and source of the data being used are also permitted.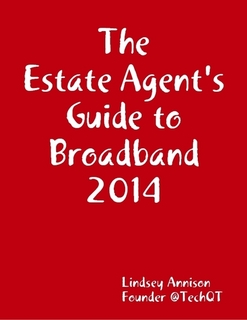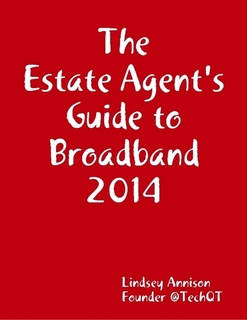 Whilst consumer, vendors, purchasers and estate agents have to try to wade their way through this morass of incorrect data, (and presumably estate agents will be sharing these speedcheck results during viewings?) your house value could drop by up to 20%, which on the mean house value at present is a cool £50k. In light of this, permit me to resort to some shameless self-promotion. Why not blow a whopping £3.99 on The Estate Agent's Guide to Broadband as a gift and help to educate a property agent near you? One day, you may be very glad of it. The Guide was written partly in response to the above articles and because such information for property vendors, letting and estate agents is long overdue.
And you could also go and demand answers from your MP, local authority, Westminster and Whitehall about what exactly is being done to protect your castle from this dire situation. Castles which many may need to resort to selling to make up OUR pension shortfall.