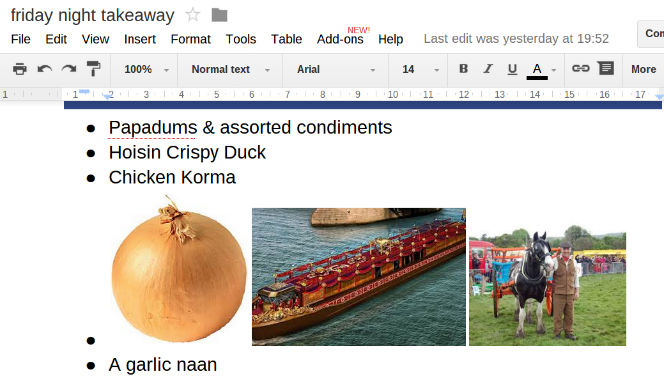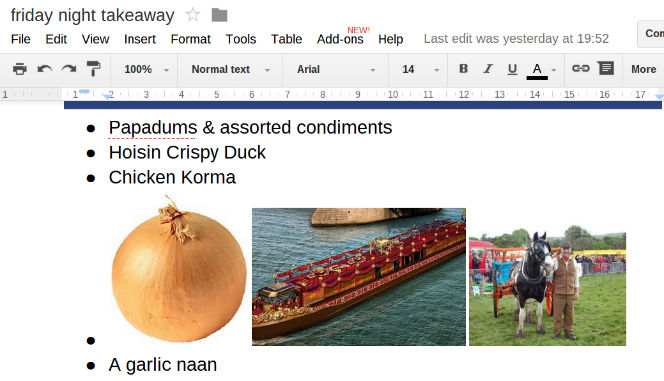 Last night we decided that tonight, Friday night, would be curry night. The only problem is that not everyone here likes Indian. Some prefer Chinese. Actually not a problem. The Chinese and Indian restaurants are next to each other on the street of a thousand three restaurants (the other one is a  greasy spoon). People can order their preferred ethnic takeaway and I'll pick both lots up near simultaneously. Simples.
What's more we can mix and match. You'd prefer a Chinese starter and Indian main? Sure, gofrit.
Now then the only problem here is that juggling menu options starts to get complicated. It's all very well writing it all down on a piece of paper but with so many possible combinations of nosh people keep changing their minds.
The solution? A shared Google Doc. Everyone has a gmail account or so it transpires. Even non google domains were resolved to a gmail address when an invite was sent. After dinner last night everyone sat round with their laptops editing the Google Doc – six persons at the same time (I did mam and dad's).
This was pretty cool. You can check out the creativity of the end result here. I was going to share the doc publicly but the process of securing permission from 4 offspring was going to be too onerous and almost certainly cost me more than a curry so I haven't bothered. A little interpretation is necessary as may be seen from the header photo and not a little simplification but it worked and there can be no quibbling over who ordered what.
A couple of links were included in the doc: The Poppadom Song and a hippo showing the after effects (presumably) of eating a curry.
Collaboration using Google Docs – not just for business 🙂