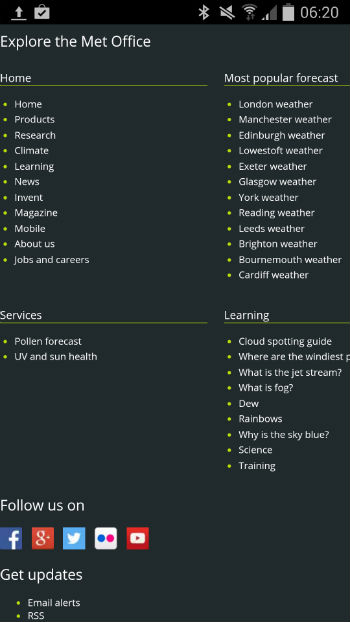 Couldn't help but notice the most popular places for weather forecasts on the Met Office site and it struck me that Birmingham was missing from the list. Wossgoinon I thought. Are the good burghers of Brum not interested in the weather? Isn't the place the third most populous metropolitan area in the  United Kingdom?
Perhaps they don't get any! Surely they must. Weather doesn't just pass them by in Birmingham. Does it? It must get a mention on the TV weather forecast. You don't notice when you look at the forecast because you are only interested in your own location or where you are going.
Maybe people don't voluntarily go to Birmingham. I've been there three times in recent years. Once taking Kid2 for a looksee at their University and twice to August LINX meetings. LINX like to get out of London in the summer where it can get unbearably hot. So they go to Birmingham!
Stop right there. This isn't a bash Birmingham post.  I'm sure there must be lots of good things in Birmingham – I've already mentioned the University which took me by surprise and impressed even though Kid2 chose Durham in the end. This is an analysis of the most popular places for weather forecasts.
Taking it from the top down the most searched for weather forecast is for London. This is completely understandable. The population of the metropolitan area of London, according to Wikipedia and the 2011 census is 11,699,601. Well it was when they did the census, not counting illegal immigrants and the homeless.
Most people that live in London have to commute to work and need to know whether to take an umbrella or sunglasses. London is also a very popular tourist destination and folk want to know what to pack before they turn up. Used the service meself for that very reason. V handy and generally reasonably accurate these days. You should know that I lost my Cisco brolly last time I was in London. Was there for an ITSPA workshop. Got the brolly when attending a corporate jolly with Cisco at the Olympics. It was a v handy compact number. Suspect it was nicked but hey…
Next up is Manchester, the second most populous metropolitan area.  On the one hand one might ask why the residents of Manchester bother looking up the weather forecast because allegedly it rains most of the time. This might be totally unfair (or it might not). Maybe they keep looking to see if there is a gap coming in the weather front so that they can get their washing out to dry. Forget it love. Buy a tumble dryer.
At this stage of the discussion it is worth noting that in the table of population sizes by metropolitan area, distilled from a more extensive list on Wikipedia, Manchester appears more than once. In fact several cities appear several times in the Wikipedia source because they split out subdivisions. Where possible I tried to merge the subdivisions to provide more compact reading. This was complicated by the fact that Liverpool and Manchester, both major metropolitan areas in their own right also appeared more than once as Manchester/Liverpool.
Drilling in to this showed that such areas contained reasonable sized towns in between the two major cities. I figured this was easily remedied by giving these reasonable sized towns their own identities in the table but after doing so for Warrington decided I couldn't be bothered to do it for the others so gave up. What you have here is a mix of data of my own concoction:)
The population table below is therefore filled with dual populations who might prefer to be listed apart. Newcastle and Sunderland, Cardiff and Newport and Derby and Nottingham are particularly spring to mind. Tough taters.
Other notes are necessary. Reading is listed as the 8th most viewed weather forecast but doesn't appear separately for its population. It is unfortunately subsumed by London. Why on earth Reading ranks for weather forecasts is as mysterious as why Birmingham doesn't. Since I began this post I've added the most popular tourist destinations by rank (ref tripadvisor) to the table. At least Birmingham (for some peculiar reason) is on the list (must be the cricket) but Reading sure as heck ain't. Notable omissions from the weather forecast rankings btw are Torquay and Llandudno who are both right up there as top ten tourist destinations.
Lowestoft ranks fourth for weather forecasts but appears neither in the population leagues nor the tourist top ten. Perhaps nobody actually lives in Lowestoft and it is merely a transit point for people catching ferries. And fishermen. I dunno.
Not worth dwelling on the rest of the data except to wonder whether Leeds and Cardiff shouldn't be up there with Manchester for people wondering when the sun is going to come out. I leave the rest to your own interpretation.
Table below compiled for your reference. Make what you will of it. Please feel free to replicate quoting Wikipedia, Met Office, tripadvisor and trefor.net. No rights reserved on my part.
| | | | | |
| --- | --- | --- | --- | --- |
| Rank | Metropolitan Area | Population | Rank by interest in the weather | tripadvisor top holiday destinations |
| 1 | London | 11,699,601 | 1 | 1 |
| 2 | Manchester | 2,553,379 | 2 | |
| 3 | Birmingham | 2,440,986 | | 10 |
| 4 | Leeds-Bradford | 1,777,934 | 9 | 9 |
| 5 | Glasgow | 1,381,535 | 6 | |
| 6 | Liverpool | 1,189,386 | | 4 |
| 7 | Sheffield | 1,179,847 | | |
| 8 | Nottingham-Derby | 1,172,403 | | |
| 9 | Newcastle-Sunderland | 1,110,306 | | |
| 10 | Southampton-Portsmouth | 855,569 | | |
| 11 | Cardiff-Newport | 754,131 | 12 | |
| 12 | Bristol | 617,280 | | 7 |
| 13 | Edinburgh | 511,705 | 3 | 2 |
| 14 | Leicester | 508,916 | | |
| 15 | Brighton | 474,485 | 10 | |
| 16 | Bournemouth/Poole | 466,266 | 11 | |
| 17 | Blackburn-Burnley | 421,002 | | |
| 18 | Middlesbrough | 376,633 | | |
| 19 | Stoke-on-Trent | 372,775 | | |
| 20 | West Midlands | 359,262 | | |
| 21 | Hull | 314,018 | | |
| 22 | Preston | 313,322 | | |
| 23 | Swansea/Neath/Port Talbot | 300,352 | | |
| 24 | Gloucester-Cheltenham | 266,500 | | |
| 25 | Plymouth | 260,203 | | |
| 26 | Blackpool | 239,409 | | |
| 27 | Milton Keynes | 229,941 | | |
| 28 | Northampton | 215,963 | | |
| 29 | Norwich | 213,166 | | |
| 30 | Aberdeen | 197,328 | | |
| 31 | Swindon | 185,609 | | |
| 32 | Ipswich | 178,835 | | |
| 33 | Manchester/Liverpool | 175,405 | | |
| 34 | Oxford | 171,380 | | |
| 35 | Warrington | 165,456 | | |
| 36 | Peterborough | 163,379 | | |
| 37 | Cambridge | 158,434 | | |
| 38 | Dundee | 154,674 | | |
| 39 | York | 153,717 | 7 | 6 |
| 40 | Telford | 147,980 | | |
| 41 | Grimsby | 134,160 | | |
| 42 | Hastings | 133,422 | | |
| 43 | Thanet | 125,370 | | |
| 44 | Burton-upon-Trent | 122,199 | | |
| 45 | Colchester | 121,859 | | |
| 46 | Eastbourne | 118,219 | | |
| 47 | Exeter | 117,763 | 5 | |
| 48 | Torbay | 115,410 | | |
| 49 | Lincoln | 114,879 | | |
| 50 | Basingstoke | 107,642 | | |
| 51 | Bedford | 106,940 | | |
| 52 | Worcester | 101,659 | | |
| 53 | Falkirk | 91,402 | | |
| 54 | Ayr | 61,365 | | |
Other great travel posts:
A day at Newmarket races
Underneath the arches – Lincoln Cathedral
Is there a travel agent left in town