Tesco sold out of ice due to Ice Bucket Challenge (presumably).
Offline at 30,000 feet I have nothing to do but listen to music and read my recently acquired Wisden Anthology 1963 – 1982 which whilst hugely interesting to us cricket buffs can only be dipped into in short bursts.
The outcome is boredom. This post, typed diligently by prehensile right thumb and using the WordPress Android app, is the outcome. I can't even look out of the window for whilst seat 11 is notionally a window seat it lacks said orifice and I am left with staring at the wall. There is an alternative to the wall which is the drinks trolley.  I am watching the drinks trolley slowly making its way towards row 11. When it arrives at row 11 I hope to purchase a pod of Pringles which will be expensive but at least will provide me with something to do for the short interval between popping them open and scoffing the lot.
For reference the pack cost €2.50 and contained 25 crisps/Pringles. At ten pence each this might sound expensive but the value for money will be influenced by a combination of how long I can make them last, somewhat akin to how long you can keep a Rollo (or fruit pastille etc – you choose) in your mouth before finishing it off, and the value that might be ascribed to their contribution towards alleviating the boredom. As it happens I quite like Pringles,  especially sour cream and  chive, and I suspect I will dispense with any pretence of finding value in favour of a quick fix.
They are at least not as much of a rip off as the water in Palma airport which was €3.60 for a 750 cl bottle. You have to discard any liquids before going through security so you have to buy water for the journey when you get air side. In fairness to the travelling public, ie me, they should regulate the price of water at air side retailers.
We are, as you might have guessed, on our way home from our Mallorcan holiday. A tech (ish) post is in development but in the meantime this one is making good use of my time.
Apart from the Pringles I have refrained from ordering any other edibles from the cabin crew. This is because when we get home, which all being well should be around 20.30 tonight, I  am having beans on toast with sausages and/or bacon. The ingredients have been pre ordered with kid3,  who returned home early from our holiday to get some A level course work done, hopefully having nipped to Tesco for supplies.
During my globe trotting days I would look forward to returning home to some proper British food in the guise of either beans on toast or a takeaway curry. On this occasion we have only just had a curry so beans on toast it is. The food in Mallorca was great largely because we mostly avoided the crappy tourist joints that all seemed to get their ingredients from the same frozen food outfit. The biggest problem was gross over consumption with a large buffet breakfast each morning at around 10am followed by a club sandwich or simlar for lunch from the pool bar. The late evening meal added to the problem because it ensured that we were never hungry at breakfast time.
So next week it's back to the gym and the morning swims in an effort to reverse the decline. "I'd been doing so well".
Although I'm in the office, tomorrow, Friday, it's for a board meeting and I don't consider my holiday to be properly over until Monday.  In the meantime we have James Powell's 50th birthday bash on Friday night, ditto Ian Stobie's on Saturday followed by shoving some steaks on the bbq at home on Sunday. Is there any hope?
Flight progress update: we have crossed the channel and should be on the ground in 25 minutes or so. Gives you a bit of an idea of where we are. I'm told by the rest of the family, who have the luxury of being in row 12 behind me and therefore actually having a window, that it is cloudy down there.  This reminds me that for the whole of the time we have been away, basking in the glorious Mallorcan sunshine, the weather back home has been terrible. This is a real result. There's nothing worse than paying a lot of money to go somewhere sunny only to find that the UK has had the hottest summer since 1963. This particular holiday is doubly blessed because not only has the weather at home been bad,  now that we are on our way back the forecast is set to change and next week the summer is returning to Lincolnshire. Yay.
As we come in to land I leave you with an image of a Ryan Air seat back, approximately 2 1/2 phone lengths from my nose.  Ciao Mallorca.  Hasta la vista baby.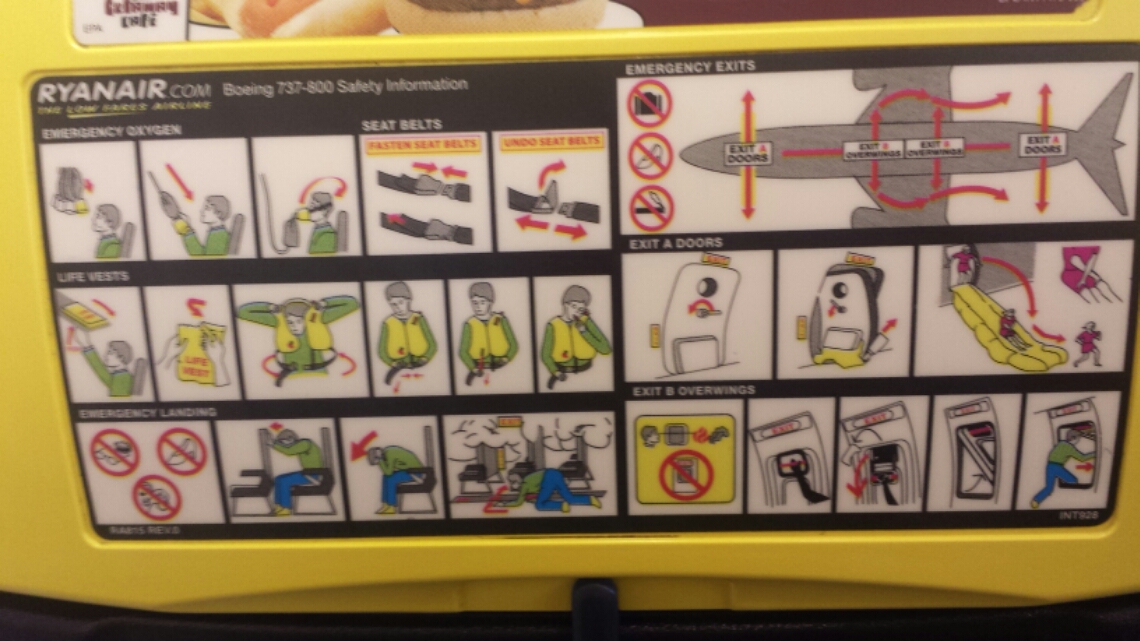 Footnote.  Ice Bucket challenges are trendy at the moment. Got home to find that kid3's band had to use frozen peas for their ice bucket challenge. Tesco sold out of ice!