In which trefor.net looks at a small business VoIP setup.
Last week I took delivery of a new IP phone. Twas a Yealink T46G. I've been using my SGS4 with a skype client to make outbound calls to the pstn.   The droid has got an intermittent problem with the audio and whilst I'm waiting for my new Oneplus One to arrive (tomorrow if the gods of the East Midlands transport system are in a benevolent mood – it has arrived as I write yay) I figured it would do no harm to look at a small business VoIP setup and sign up with a number of VoIP service providers to compare their services.  The Yealink allows me to have 6 ITSP accounts.
It's years since I've done any hands on phone testing. At Timico it got to the point where it was all done for me whilst I strummed the NetOps guitar and wrote blog posts. Back in the day the setting up of a new SIP phone was never straightforward. Every manufacturer had different ways of doing things, as did every service provider. Trying to match up which element of credentials went into which field on the phone could take days.
The Yealink was a breath of fresh air – v easy to set up. Having got the phone I then needed a service to use. There was no point in using Timico. I wouldn't learn anything new there. A roll of the dice brought up Voipfone. Voipfone CEO Colin Duffy regularly contributes guest posts to this blog so it seemed a reasonable thing to do.
Voiphone have an automated front end. I created a new account and stuck a tenner's worth of credit in. They gave me a password and I was off. However the service didn't work straight away. I could get a dial tone and in fact was able to call Voipfone but no outbound. The guy at Voiphone sorted it in no time. Although they don't sell Yealink phones they must have experience in dealing with most vendors' kit.
I found the phone's IP address – easily done from the menu – and stuck it in my browser address bar which took me to the phone's web page. Username and password entered and we were able to check the settings. I'd missed a field for the outbound proxy server address. Doh!
Both phone and service worked beautifully. This is my experience of VoIP services generally, provided you have good enough connectivity. In my case I was on the ja.net network. In theory as good as it gets. I've also tried it at home from the office/conservatory and also no problem.
Now there's a few things to note about this experience. Firstly it was very quick to get up and running. If I was a new business (which coincidentally I am) I could have my comms up and working in minutes.
Secondly If I had more than one business (which coincidentally I do) I could very easily set them both up with diffrerent numbers operating from the one handset. Your phone answering spiel wouild be driven by which line rings.
The Yealink feels good on the desk and in my hand. You might easily say a phone's a phone and in one sense you would be right. The User Interface is important in a phone. It's just little things like the rubber feet. They just feel right. Just the right amount of give when you touch the phone.
This isn't really an advert for either Voipfone or Yealink. I just happened to use them though for a small business VoIP setup they are perfect. I could have used Timico or any other number of ITSPs. This is an advert for hosted VoIP telephony in general. I brought the phone home from the office today. Everyone else was out so I figured I might as well work from home. It's comfortable, though I wouldn't want to do it all the time.
Over the next chunk of time I'm going to take a look at various VoIP services and let you have my observations. In an ideal world I'd also have my Skype and Google accounts registered on the phone. Not there yet.
That's all for now. It's VoIP week on trefor.net. Y'all come back now.
PS I named the Voipfone line Colin. If I sign up with more ITSPs I'll use their CEO's names too:)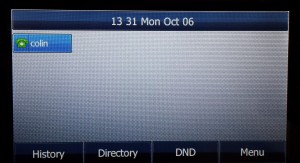 This is a VoIP week post on trefor.net. Check out other VoIP themed posts this week:
VoIP fraud-technological-conventionality-achieved  by Colin Duffy