ITSPA Champions are Philip Davies MP and Jon Beardmore. Latvian EU Presidency gets members pick.  net neut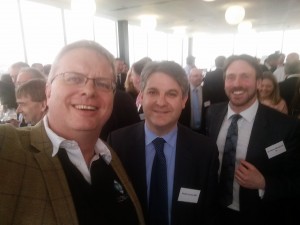 Somewhat belated congratulations ot Philip Davies MP and ITSPA Council member Jon Beardmore on their winning of the ITSPA Champions category of the ITSPA Awards, held last Thursday at the Tate Modern.
Philip Davies won it for his support in tackling anti-competitive blocking of VoIP services by certain mobile providers. That's him pictured centre with me on the left and AQL CEO Adam Beaumont on the right.
Likewise Jon Beardsmore, pictured with me below, was a winner for his work in leading ITSPAs efforts on the open internet over the last three years. The combined efforts of our two winners have been particularly successful. Philip Davies raised the profile in parliament and Jon has been putting pressure on all stakeholders.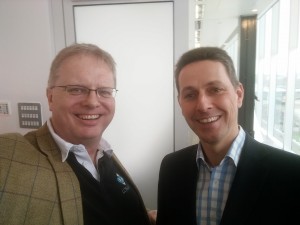 The upshot is that all major network operators have openly committed to net neutrality – a position that was definitely not the case hitherto – something that has been hidden in the small print of ts and cs never read by customers.
Kudos to Jon's employer BT for giving him free reign to to this work which has involved frequent travel to Brussels.
This leads me on the the ITSPA Awards Members' Pick which is The Latvian Presiedncy of The European Union and was given "for their leadership in developing a workable council text on the Open Internet". This might surprise you but Latvia has taken a lead in promoting net neutrality against a plethora of vested interests.
I quote ITSPA Chair  Eli Katz: 'We have been very active in this area over the last few years. We believe the Latvian Presidency's Open Internet proposals strike the right balance between promoting competition whilst enabling innovation. They will put an end to abusive practices by a minority of ISPs who have tried to frustrate competition with their own services whilst at the same time allowing specialised services to be offered with enhanced levels of prioritisation. This is essential if the internet is to reach its full potential – for example by delivering TV services over broadband to free up valuable radio spectrum for mobiles.'
The featured image is of Guy Miller ITSPA Council Member presenting the award to Ildze Jansone, Coordinator of the Latvian Presidency of the Council of the EU at the Embassy of Latvia in the United Kingdom. She shot off before I could get one of her and me (no idea why!) so I've used this one courtesy of ITSPA.
So all in all a good day for net neutrality at the ITSPA Awards. Loads of posts on net neutrality on this site btw. Check them out here.