Win a mega prize Wimbledon Ladies Draw Competition
Hey evrybody it's Wimbledon Fortnight and by gosh it's hot in the office, dang it. Someone forgot to switch on the air-conditioning unit I bought from Argos last year and I haven't got the energy to lean over and switch it on.
Instead of working we're kicking back and watching the Tennis on the good ole internet. Now it's a long long time since we had a competition on trefor.net so I figured now was as good a time as any. We should have had one before the most recent Royal sprog was born but we missed the chance – probably busy that day. No worries the tennis is here and it's the Wimbledon Ladies Draw Competition.
It should be noted that the reason we have chosen a Wimbledon Ladies Draw Competition is that on Friday afternoon we are having a party on the balcony here at trefor.net towers. It starts at 4.30pm (you are invited but bring your own tinnies) and we thought we would announce the winner of the competition at the bash.
It is easy therefore to have a competition that involves naming the two ladies finalists – because we will know who they are by then. In theory.
So the competition is to name the two lady finalists at this year's Wimbledon. To make it a little easier on the grey matter we have replicated the Quarter Final line up below. All you have to do is pick the correct two ladies. Some will already have been knocked out by the time you read this so if you can be bothered to find who they are you can narrow your odds of winning.
In case of the highly probable event of more than one right answer we have a tiebreaker: What's my favourite flavour of crips What is the total number of games played in both semi-finals – winner is nearest answer.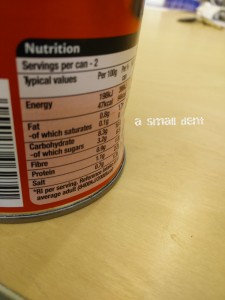 The prize is a magnificent tin of Heinz Vegetable Soup. It's been on the office windowsill for a couple of months and we are not likely to want to consume it now until next Autumn, so it goes. There is a very small health warning in that in moving the tin from the windowsill to my desk I noticed a teensy dent in the tin – barely visible but photographed in case you are worried (see inset photo right).
If this is unacceptable then a packet of Walkers Cheese and Onion crisps is available as an alternative. Appropriate packaging will be applied when shipping either prize options.
Quarter-finals
| | | | | |
| --- | --- | --- | --- | --- |
| Seed | Player | | Player | Seed |
| 1 | S Williams (US) | v | Azarenka (BLR) | 23 |
| 4 | Sharapova (RUS) | bt | Vandeweghe (US) | |
| 20 | Muguruza (SPA) | bt | Bacsinszky (SWI) | 15 |
| 21 | Keys (US) | v | A Radwanska (POL) | 13 |
Note this competition is not governed by any gambling commission type rules and the judges decision is final. Anyone can enter. Even my dad.
Please leave a comment with your answers. The winner will be notified by blog post and email sometime after the party on Friday.
Good luck and happy Wimbledon watching.
Prizes will only be shipped to mainland United Kingdom unless you send a stamped addressed envelope to I can bring it to present to you at a conference at some time in the future.