HP printer delivery either 09.13 or 13.56
You see before you a bewildered bloke. One where there is a risk of extremes of emotions on this, a pleasant if slightly breezy English summer's day. My HP printer delivery is either going to be at 09.13 or 13.56.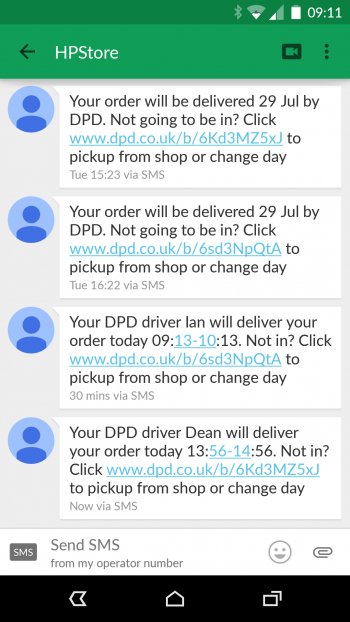 Coming out of the pool changing room this morning my pocket vibrated. It was a text message from DPD saying that my HP printer delivery will be executed (word chosen to startle, albeit momentarily) by Ian between 09.13 and 10.13 this morning. Impressivo I thought. Just time to get home and eat my banana.
Munching away at said banana at the breakfast table I logged on to the DPD website to see if I could physically see where Ian was. Confusingly the website told me that it wasn't Ian coming but Dean. Wosgoinon I thought! The next minute  second text came in confirming that indeed Dean was the logistics operative entrusted with the delivery of my new printer. Not use of word delivery instead of execute. Gotta mix it up.
Now there are a number of possible scenarios that could explain this sitch:
DPD, on behalf of HP may have made a simple mistake in allocating the job to Ian. Ian may not actually be in today – annual leave or maybe even off sick. For Ian's sake lets hope it isn't the latter. Ian may also have enthusiastically shot off leaving the HP parcel behind. He may even have said "That's too heavy for me with my bad back. Let Dean take it".
It may also be that HP have erroneously shipped two printers and they have been shipped separately. In this case I'd probably be able to sell one of them on eBay. Result.
doorbell rings
That was Ian at the door with my part shipment. Everything but the printer itself! Ian enquired as to my puzzled expression (DPD drivers are known for their empathy – it's in their training) and I was able to explain the events of the morning thus far, as conveyed to me by sms and to you in the copy above.
You need to know that the conveyor belt at DPD in Lincoln broke down this morning so when the four delivery lorries (big business this) arrived at the depot all the parcels had to be manually handled. Manual intervention, as I'm sure you all know, leads to mistakes and the two packages didn't end up in the same cage.
The upshot is that Dean himself is bringing the actual printer this afternoon. "Funnily enough" said Ian "I have just seen Dean driving down Wragby Road in the opposite direction" I live on Wragby Road. Funnily enough I didn't laugh.
Ah well (said in a somewhat sanguine voice). I'll pop into the office now then and come back for lunch.
In case you didn't read it the HP printer delivery was for this bit of kit wot I wrote about yesterday. The HP Color LaserJet Pro MFP M277dw printer. Does double sided printing you know?