Meet Andrew, a butch kinda guy. He likes shooting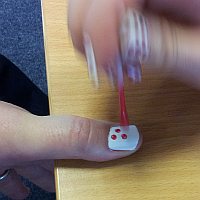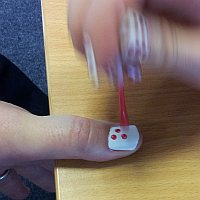 and has been known to jump out of planes "just for fun".
Andrew is clearly a happy go lucky bloke and nothing excites him more than getting ready for a night out at the weekend. This weekend is a big one. It's Children in Need.
Andrew really likes to sit in front of the TV watching all the celebrities doing their bit to empty your pockets and raise cash for a worthy cause.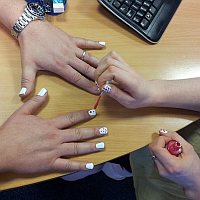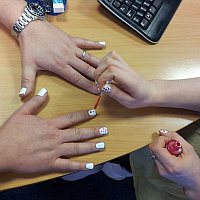 Andrew though is no couch potato and today has got off his butt to raise some cash himself. In fact as you can see from the pics he has gone more than the extra mile.
Andrew has gone and had his nails done.
It took a whip round to do it. It's funny how the whole company responded to the challenge opportunity. The £145.18 was raised in no time at all.
As you might imagine it took Andrew some getting used to,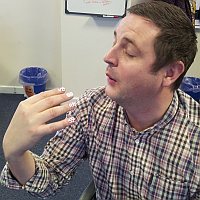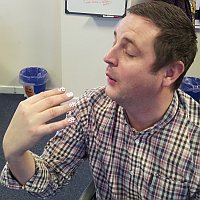 especially the drying bit. There was some serious wrist action going as you can see from the photos and no small amount of puff.
Anyway he got there in the end and has been strutting round the office proudly showing off his nails to everyone generous enough to have donated.
The lad has promised to keep the varnish on for the whole weekend so that his mates down the Rose and Crown on Saturday night can take a butchers. Perhaps they will buy him a pint – he deserves it. They should at least add to the donations already made.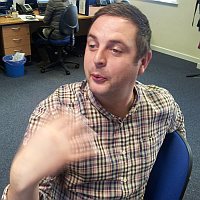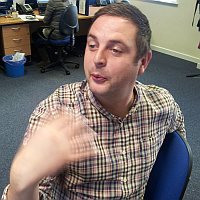 The last photo is in stark contrast with that of the header where he is trying to look tough.
In it he is obviously a happy chappy and has already worked out the best position to hold his arm to display his nails to best effect.
Well done Andrew, proud to be your workmate.
Well done also to Kirsty Watt, the ingenious instigator behind the important fund raising initiative. She is evidently a talented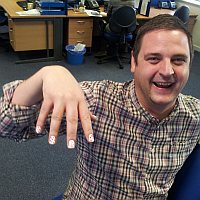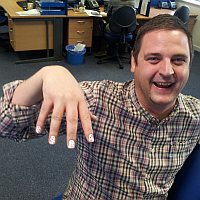 artist 🙂
Meet Andrew North – modern man and all round good egg.