I've got tons to do but I'm on holiday after this week (yay) and the Olymic coverage is building up to near frenzy already (gawd knows what it will be like when it really gets going) so I'm doing Olympic posts.  For the avoidance of doubt that's the London2012 summer Olympic games if any of the Locog police are reading.
You will remember the post I wrote ages ago about the BBC's own forecasts for iPlayer traffic based on the which sport is happening at the time. Now of course that time is upon us. Today the ladies of  Team GB football are taking on the mighty All Blacks at the Millenium stadium. Actually I don't know if they are mighty or whether they are even called the "All Blacks". I mean New Zealand ladies.
I've never watched a ladies football match, at least not in its entirety. I did watch "Bend it like Beckham" which I thought was a very enjoyable movie but  I digress. The Beeb reckons that this first ladies match will be more popular than the men's game tomorrow. Do they know something?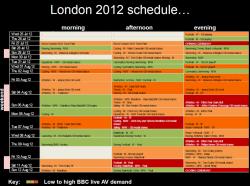 The Beeb has in fact identified six sessions it has labelled as having the highest iPlayer demand. These are the opening and closing ceremonies, the mens 100m and 200m finals (good old Usain – don't let us down), Chris Hoy and Victoria Pendleton on the afternoon of Tuesday 7th August (yay cmon guys) and the afternoon of Saturday 11th which has the finals of the men's footy, hockey and basketball (yawn).
As I write I'm scanning through the BBC's schedule showing its demand forecast and I've just found something that casts the whole process into doubt. On a scale of 1 – 4 where 4 is the highest demand the women's beach volleyball finals are only rated a 2. How credible is that?
That's it for now. I normally adopt radio silence when I'm on holiday but this time I will be posting live from Olympic events using my trusty Samsung Galaxy S3 and WordPress for Android. I must get a speed tester app on the phone. Also I've not gone yet 🙂
Click the inset box to see which events the BBC thinks will be busy.