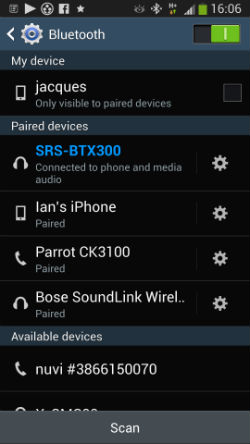 It was chucking it down on Saturday so no golf and there was no rugby on so I wandered down to Currys on Tritton Road in Lincoln for a bit of a browse. I wasn't after anything in particular but found myself in front of a portable Bose speaker system that allowed you to hook your phone up using bluetooth. So I did.
The sound quality was mind blowing and it was really easy to get set up. I got chatting with a sales assistant and mentioned the fact that at £249 the price was a bit rich. "You're paying for the label" he said so I asked him whether there were some equally good but cheaper systems where I would be just paying for the quality. He pointed me vaguely at a Sonos system so I went along to look at that one.
Standing in front of the Sonos I did a bluetooth scan and took a guess as to which was the right kit to hook up with. Playing Queen's Another One Bites The Dust nothing seemed to be happening. Then I realised the sound was coming through a different Sony product a few feet away. Someone was standing in front of it talking to the sales guy so I whipped up the volume:)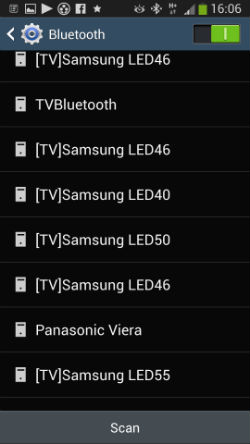 The Sonos didn't work using bluetooth – it's WiFi apparently. What struck me, apart from the fact that it was so easy to set up and the quality of the sound was the number of devices in the shop with bluetooth connections. The screen shot shows loads of Samsung TVs. I'm a bit of a luddite when it comes to TVs & simlar but was astonished to see how thin they are these days.
Wandering round the shop I also noticed they were pushing your own "Personal Cloud" from Western Digital. This looks like a solid state hard drive with a WiFi connection – no resiliency. It doesn't matter. It recognises the fact that people need to store data away from their pc or mobile device. I'm still more comfortable with having lots of resiliency in a backup though I guess two WD devices would do the job. The Smart Home app is working brilliantly btw. I made a donation.
The fact that Currys was using the term cloud is pretty significant. It supports the whole move of operations into the cloud. It wouldn't surprise me to see sales of Chromebooks shooting up this Christmas. It's the way ahead.
PS might ask Santa for the Bose speaker for Christmas.