It's been a surreal week (starting last Saturday). Monday I chaired a couple of sessions at the annual ISPA conference. Monday night I went to the Albert Hall for the first time.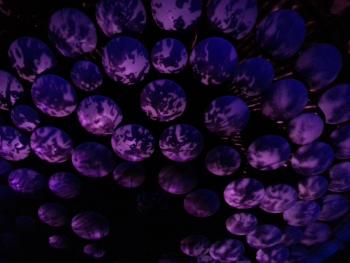 I am very proud of all my kids. On this occasion it was the turn of number three. I know he reads this blog and I don't mind if I embarrass him a little by telling him that on Monday night I was massively proud of him.
I was at the Albert Hall for the Schools Prom in which he was performing in local Lincoln youth jazz big band Jazz Vehicle. They are run by an inspirational guy called John Crouch (Mr Crouch) who weaves magic with his musical baton (wand) and has turned them into a national award winning ensemble.
You really need to hear this band to appreciate the quality of their playing. They are fantastic. I sat in the Albert Hall welling up with pride. For my boy it was a life enhancing experience. I am thrilled for him. He is a good boy and deserves his success.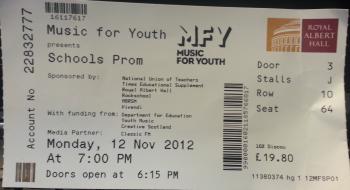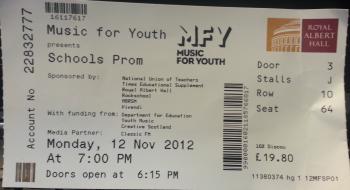 Tuesday morning I had a meeting cancelled but tagged along with my pal Sue Black @Dr_Black to the Grauniad offices because she was recording the Tech Weekly Podcast with Aleks Krotoski. Sue has been instrumental in saving Bletchley Park and importantly the Turing Papers for the nation. Google it.
At the Guardian we bumped in to tech editor @CharlesArthur who mentioned that one 0f  the subjects they were covering was 4G and I was invited to stay and participate.
That night I went to dinner with Dario Talmesio, Principal Analyst at Informa covering the European mobile operator market. Very interesting and knowledgeable guy. We ended up at the Phoenix Artist Club where I'm holding my Xmas bash. It was open mic night and the place had been taken over by a crowd of gay dentists! You couldn't make it up!!
Wednesday morning I was at the RAC Club with Dave Hamer to hear former British Ambassador to Washington Sir Michael Sheinwald discuss the US Presidential Elections. The RAC Club is a class act. 30m swimming pool, classy Turkish baths and only £800 a year membership. The problem is the four and a half grand joining fee. Ah well.
Lunch followed with some great company. It finished at 5pm!
Today I've been back in the smoke for an ISPA Council meeting. I'm looking forward to a quiet weekend…
Tomorrow is Children In Need Day.  Look out for my cookie competition post 🙂
PS if you don't understand the Hitler reference I'm not going to explain. Sorry!