Datacentres are quite a hot topic in the Internet Service Provider world, and their costs are rising, largely due to the increasing costs of power and cooling.
In the UK the major datacentres have typically been located in London's Docklands. This is because Docklands is where most of the world's major network providers connect. The cost of connectivity has traditionally been far too high to locate critical network infrastructure outside the capital.
I am sat in the LINX meeting in London writing this post listening to Bob Harris, Technical Services Director of Telehouse, one of the major datacentre players in Europe. Timico is already located in Telehouse North and East. Well the news is that they are building a Telehouse West (not particularly new news).
What is interesting are the financials associated with this project.
£165m over 5 years (£80m over 1st 2 years for the first two floors)
5 floors with 985 sq metres per floor
425 racks per floor providing 4KW per rack = total 2125 racks
Business plan to fill the facility over 3 – 5 years
That works out roughly at £78,000 per rack or just under £20,000 per KW. In terms of contribution to the operating costs the capital depreciation is £258 over 25 years, which is incidentally a long time in this game – 10 years might be considered more normal and the period has been arbitrarily chosen by me for illustration. Remember this is before anyone starts charging for operating costs.
I think the costs of this project point towards a trend to start building datacentres outside of London. Communications costs have plummeted and service providers and businesses are going to start hosting all but their most critical, perhaps latency sensitive, infrastructure outside the M25.
You can follow the progress of the Telehouse West building on their webcam here. I've pasted a picture of a typical backup generator that is used by datacentres to give you a feel for where the costs are incurred.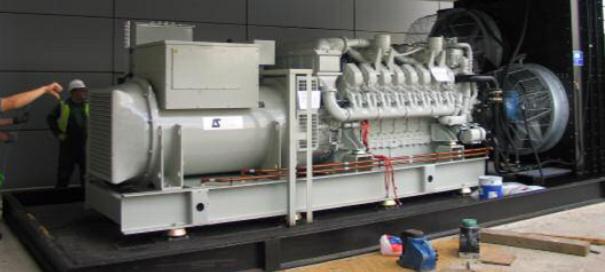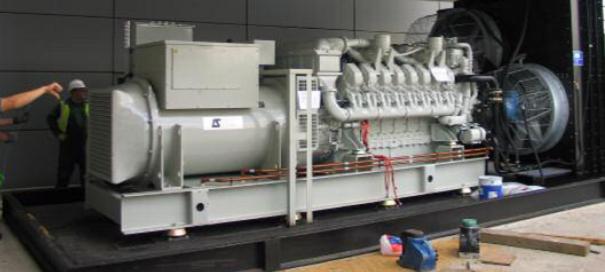 PS I don't think there is room for a Telehouse South, in case anyone was wondering.