The BBC reports today that singer Bono is claiming that the revenues lost by the music industry due to illegal downloading mirrors the growth in profits of the Internet industry.
This didn't sound quite right to me but I doubt that anyone has any real data. It did prompt me to see if I could have a stab at sizing both industries myself from my limited sources of information.
Firstly in last year's Ofcom communications market report the total number of ADSL tails is quoted as being 17.3 million connections at an average cost of £10.71 a month.  This works out at just over £2.2Bn revenues in 2008.  I realise that there will be other revenues that add to the total ISP take but ADSL will be the biggest portion of the whole. Also I have no doubt that the music industry would quote the total communications market size as the number to compare.
Now look at the available data on the music industry in the UK posted recently in the Times which suggests that turnover in 2008 was, wait for it, just over £2.2Bn.
Whatever the right numbers it clearly suggests that Bono's claim is just the hype that most people will hopefully see through, or at least MPS about to decide on the Digital Economy Bill.  We are at an important juncture in process of the DEB and it is important that the ISP industry gets its own message across as clearly and successfully as the music industry seems to be doing.  I haven't been monitoring the relative amounts of press coverage each side has been getting.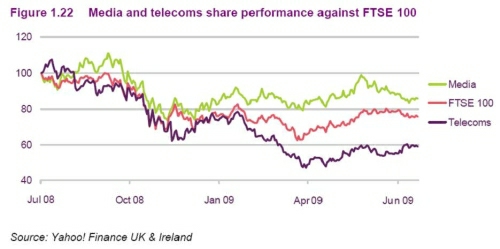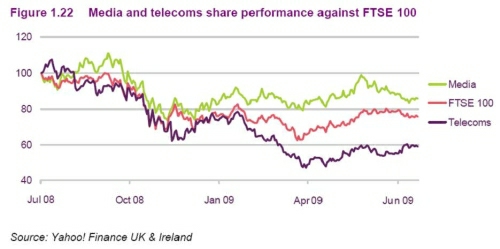 Finally the chart, taken from last year's Ofcom market report shows how the media and telecoms industries have been performing relative to the stock market. It suggests to me that the media industry, again assuming the metric is the right one, is not doing so badly, relatively speaking.
I'm quite happy to be corrected with any of the numbers here but we do need to try and get a correct persective on the whole situation.