Cisco SPA525G VoIP phone gets thumbs up – find out why.
The SPA525G VOIP phone is the flagship model in Cisco's small business range of IP phones. trefor.net takes it on a road test, kicks the tyres and gives an opinion.
Look & Feel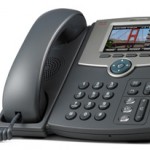 If you think the SPA525G VoIP phone looks familiar it's because this phone and the other models in the range are the direct replacements for the popular SPA900 series, inherited by Cisco as part of the Linksys acquisition in 2003.
There is, however, a considerable uplift in the quality of plastics used throughout and the receiver itself appears to be lifted directly from Cisco's higher priced 7900 range.
The general impression is of a very solid device that will survive the rigours of office life for many years to come.
Once you power the unit up you can admire the full colour screen which you only get on the 525G. The other models in the range make do with a monochrome display. You can set the background image from a number of pre-loaded files or import one of your own by using the integrated USB host port and effectively use is as a digital photo frame. This is quite a nice touch by Cisco allowing users to personalise the device in the same way they like to personalise their PC and mobile phone.
Features
All the SPA500 VoIP phones support both SIP and the proprietary SPCP used by Cisco in their UC500 IP PBX range. I was only able to test the 525G in SIP mode but am happy to report that all the basic telephony features are present and correct. There are also some more advanced options like Busy Lamp Field (BLF) and Shared Line Appearance which unfortunately I wasn't able to get working on Timico's Genband based platform but should be supported on Asterisk or Broadsoft based systems.
Like all the models in the range this phone supports Power over Ethernet (PoE) and features a 10/100 switch so you only need one network port at your desk. It also offers a hands-free speaker phone which provided excellent call quality and could easily serve as a conference phone in a small office. This is a big improvement on the old SPA900 series where the speaker phone was always rather a disappointment.
In fact this excellent audio quality is also delivered when using the receiver and generally points to a significant improvement in the quality of components used by Cisco. It also comes with the G.722 wide band audio codec so is ready to offer HD voice quality once support for this becomes more widespread.
It's in the area of connectivity though that this model really stands out from the crowd featuring both Wi-Fi and Bluetooth built in as standard. As a rule I'm generally not one to recommend using Wi-Fi for voice but I can see how useful this would be if you have an area that is impractical or costly to cable.
I was able to detect our office wireless network straight away once I switched on the option via the phone menu and after entering the security key I was up and running. During my limited test of the Wi-Fi I had no problems but would still probably stick to a cable connection wherever possible which is likely to be better quality.
The other wireless technology on offer is Bluetooth which is used exclusively for connecting a headset. I wasn't able to lay my hands on a headset for testing in time for this review so cannot comment on how well this is implemented. You can search for devices and pair them with the phone all through the on screen menu with no need to do any complex configuration. This is an excellent feature that isn't found in many other VoIP phones and will really suit those who like to pace around or type whilst they talk.
The phone offers a small selection of XML applications offering weather and news with the potential for customers to develop their own apps providing information relevant to their end users (e.g. stocks and shares).
A nice final touch is MP3 support which allows you to import your own audio files using the USB host port and use them as ringtones for different contacts in your directory. Just like the customizable background image mentioned earlier, users really like this type of personalisation and it really starts to blur the line between a desk and mobile phone.
Configuration
Just like the SPA900 series before it these phones offer a number of configuration options via TFTP, HTTP and XML files. A number of SIP PBX's have already implemented auto configuration for the whole SPA500 range. This includes the VoIPCortex sold by Timico. There is also a browser based user interface for manual configuration which I used for this evaluation. The web UI will be instantly familiar to anyone who has used the earlier range of phones although there does appear have been some work done to enhance the look and feel.
There are a number of different views available on the UI depending on whether you are an end user or a system administrator but click on the full advanced admin view and you are given a bewildering array of configuration options to tinker with, many of which were completely unfamiliar to me. The good news is that I didn't really need to adjust any of these advanced settings and quickly had the phone registered on Timico's hosted VoIP platform.
This phones has five line keys each of which can be used for a different SIP account or extension or they can be used to add a speed dial or monitor another extension using the BLF feature (if supported). Configuring some of these options manually does require you to enter a command string into the web UI and for that you need to understand the syntax that Cisco use to tell the phone what to do. This is one area where rivals like Snom have done a better job by providing a much more 'point and click' experience which hides all the technical stuff behind the scenes.
Ease of use
In general day-to-day use the phone is controlled via the usual mixture of dedicated hard keys and context sensitive soft keys. So far I have found it to be easy to use and intuitive with only an occasional need to consult the manual. Anyone familiar with the old SPA900 phones will be up to speed with the basics of this phone almost immediately.
One minor quibble relates to the directory where I am only given the option to manually add entries one at a time. If I was connecting it to something like the VoIPCortex PBX or a UC500 which can auto populate the phone from its own directory then this wouldn't be an issue. Seeing as I am setting things up manually, however, I could do with the option to import a simple comma separated text file which I could extract from my Outlook contact folder.
I believe it may be possible to access a company LDAP directory from the phone but it isn't apparent to me from reading the manual how this could be done (sounds like a job for one of our VoIP engineers).
Price
You can expect to pay around £250 for 525G which, in the highly competitive SIP phone market, places it in the same premium category as the Snom 821. This is essentially an executive handset which has some great extra features but it would be hard to justify it as the standard office phone. The only exception might be where the integrated wireless connectivity is essential for deploying the phone to a particular location. Adding wireless to a Snom 821 would put an additional £30-40 on the cost.
It's worth noting that there is no power supply provided in the box; Cisco assumes that you are going to be using PoE and has chosen to keep the cost of the phone as low as possible. So if you're planning to deploy any of the SPA500 phones and not use PoE you will need to add roughly £10 to the cost of each one to cover the PA100 power supply.
Final Verdict
Based on my experience of the 525G this new range of SPA phones is an improvement in every way from the previous handsets whilst retaining the same SIP stack and UI that has become so broadly supported across the VoIP industry.
This is a great example of how open standards has driven innovation in the business phone market. These devices are now starting to be comparable to the feature set enjoyed in mobile devices for many years.
After all if you were looking for a new smart phone today you would want a colour screen, Wi-Fi, Bluetooth plus the ability to upload your photos and mp3's – all of which the 525G VoIP phone delivers in a desk phone form factor. Most importantly it also excels at the basics by being simple to use and delivering crystal clear audio.
If the price is too rich for you and you can live without extras like Bluetooth and colour screens, have a look at the SPA502G & 504G which offer the same high quality audio but will have a purchase price closer to £100-120.
Just as you're getting used to all of these new features it would seem that an upgraded version of the phone, SPA525G2, is waiting in the wings for launch in a few months time. This will enhance the Bluetooth capability by allowing you to pair it with your mobile phone.
So you can now answer calls on your office phone using your mobile and use the excellent speaker phone to make mobile call hands free just as you would in the car. It will even allow you to synchronise the phone book in your mobile with the directory in your desk phone (which would overcome the slight grumble I had earlier in this review).
All I can say is if there is anyone from Cisco reading this then you know what you need to bring with you to our next meeting!
PS This review, written by Timico's Andrew Massing, is the first of many. We get a lot of devices coming our way and will be sharing our experiences as we go along.