Cisco SPA525G VoIP phone gets thumbs up – find out why.
The SPA525G VOIP phone is the flagship model in Cisco's small business range of IP phones. trefor.net takes it on a road test, kicks the tyres and gives an opinion.
Look & Feel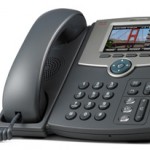 If you think the SPA525G VoIP phone looks familiar it's because this phone and the other models in the range are the direct replacements for the popular SPA900 series, inherited by Cisco as part of the Linksys acquisition in 2003.
There is, however, a considerable uplift in the quality of plastics used throughout and the receiver itself appears to be lifted directly from Cisco's higher priced 7900 range.
The general impression is of a very solid device that will survive the rigours of office life for many years to come.
Once you power the unit up you can admire the full colour screen which you only get on the 525G. The other models in the range make do with a monochrome display. You can set the background image from a number of pre-loaded files or import one of your own by using the integrated USB