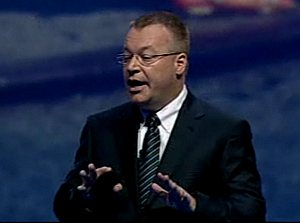 Just finished watching the NokiaWorld webcast.  I don't watch many of these but last week I also happened to dip into the RIM event and it must be said that there is a world of difference between the two. Nokia CEO Stephen Elop appears to be one of the better front men of the big mobile and platform providers though the language he used was very carefully chosen and was filled with sentences that seemed to me to be the product of long days in the marketing department meeting room.
Nokia today launched the Lumia range of smart phones. In Elop's words "Lumia is light – a new dawn for Nokia". This is the "big one". The one that has to work and which has several shirts and a house riding on it.
Based on the Windows Phone OS the Lumia has 6 times more marketing budget than any other product Nokia has previously launched. It starts shipping in November into 21 operators and retailers in six countries – UK, Germany, France, Italy, Netherlands and Spain.  Hong Kong, India, Russia, Singapore and Taiwan will see the device before end of 2011 and more markets (inc USA) early in 2012.
There are initially two devices in the Lumia range.  The 800 costs E420 (excl tax and subsidies) and is available to preorder on Nokia.com.  The 710 comes in at E270.
So what is it about Lumia that is going to make the difference? The presentations majored initially on the design of the handset. In fairness this is something that Nokia has traditionally been very good at. Ease of use is also a major play with only the icons relevant to the user being displayed on the home screen and more live information about what is happening "underneath" that icon. In other words you don't have to click on it to find out what is happening.
The camera is also said to be top notch with a host of features built in to make sharing info on social networks easier. Face tag for example highlights the faces of people in a photo giving you the opportunity to tag each person before uploading to the relevant network. This very much fits into the semantic web I was talking about recently and compares with Hand-e-Pix – a photographic and data storage application that Timico produces for business markets.
Lumia is targeted at the 25 year old demographic. Integration with social networks is easy, there's an Xbox Live play and Nokia Music – hundreds of pre provided music mixes that you can download and alter. Microsoft Office is there (free?) as is Nokia Maps, a navigation application that works without access to internet connectivity. Contextual knowledge is majored on – integration of location data with transportation time tables, Foursquare integration.
Nokia says it is seeking to "Bridge the real world with the virtual world". There's a lot of stuff in there. Nokia has a chance of making it work but the key is whether it can persuade that 25 year old demographic to buy the product.
I don't think that the audience was as free with the rapturous applause as I suspect Nokia hoped. However at the end of the day it's that 25 year old target who will determine whether Nokia will still have a shirt and it isn't long now before we find out.