I am an unashamed fan of Vint Cerf, inventor of the internet and Chief Internet Evangelist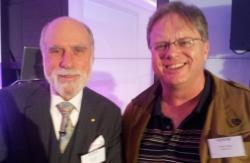 of Google.  Imagine my surprise when he came up to me at the Nominet Internet Policy Forum and asked if I minded being photographed with him!
Of course I was more than happy to oblige though the photographer was so excited he couldn't stop shaking.:)
I am of course only joking. There are some times in life when you have to abandon any shyness, walk up to a man and ask him if you can have your photo taken with him. Vint must be used to this and we had a nice chat about SIP – Henry Sinnreich and Alan Jonston are friends of mine and used to work for Vint at MCI – look 'em up.
That's all.