Check this out. We just got awarded our ISO9001 certification.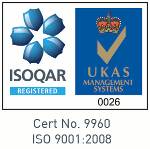 Hooray. This year we will also be adding to the existing ISO27001 certification in the Timico Technology Group.
This game is a continuous process of improvement and as the company gets bigger the importance of sticking to quality processes and procedures becomes ever more important.
For some in the business this is a champagne moment – it is the culmination of a lot of hard work. For me it represents one of those moments of quiet satisfaction – another milestone on the road to the top 🙂
Bit more on this here.