Taking a look at the narrow letterbox shaped photo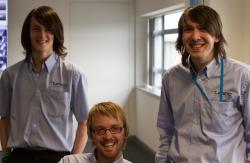 that is the header to this post you might be forgiven for thinking that it was a police identity parade. The strange thing is that the guys, Ashley, Carl and Luke are smiling. Clicking on the photo you will see that they are Timico staff, proudly wearing their branded shirts.
The mirth is becasue they have just had a haircut after betting that one of colleagues, Adam Rutter (photo withheld to protect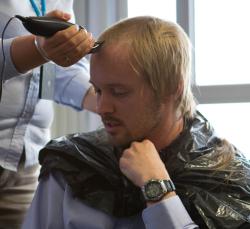 the innocent) could not go for a whole shift without swearing. I know, I know wtf do I hear you say?
Well Adam, who is a really nice guy is an inveterate swearer and undertook to maintain expletive silence in order to raise cash for the "Dogs Trust". Adam brings his dog into work every day and keeps him in the kennel in the data centre car park.
The guys figured he didn't have a hope so said that if he succeeded in going the whole day without upsetting Mary Whitehouse they would have their hair shaved off.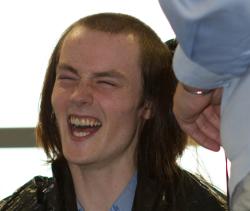 Tbh they really needed the haircut. They will benefit from huge side effects of the act of generosity – their consumption of shampoo will plummet and whenever they go out on the town will be able to squeeze in that extra beer because they won't have had to spend as much time "doing their hair".
Thanks to Faye Hemingway for performing the shearing – she has undoubted skills in that direction. Thanks also to Graham Busby for the photographs.
They raised a total of £250 which is great – if you want to chip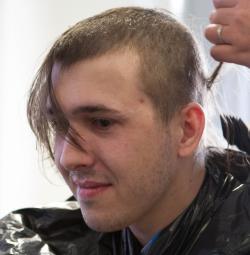 in you can do so here.
You can also check out the kennel here.
Well done to everyone involved – great sports.