You find me in a playful mood. This is despite the fact that my rear driver side tyre picked up a nail this morning and I had to divert via Tanvic Tyres in Newark to get the puncture fixed. Tanvic are a customer of ours and did a great job.
They made my wait easy. There was a convenient coffee machine in reception, a PC offering me free access to the internet and the whole job was done for the really good value of £17. Use them.
The only downside was that I had to sit through the Jeremy Kyle Show. You have to like that kind of thing to want to watch it & I felt sorry for the bloke manning the desk, exposed to it day in day out. He didn't seem to mind. A happy place to work 🙂
Anyway I digress. It feels a little like the Two Ronnies show where Ronnie Corbett told a joke from his chair and continuously got sidetracked. Look it up on YouTube if you are below a certain age. They were funny stories. Classic show.  They don't make them like they used to.
The other great show (while we are digressing) was Morecambe and Wise. They were unmissable.  My kids still like to watch them today. A couple of years ago a new friend came to our house for the first time. His name is Ervin Nagy. He is a famous Hungarian Concert pianist believe it or not and he now lives in Lincoln. We showed him the Andre Preview sketch where Eric tries to play Grieg's Piano Concerto by Grieg. Ervin was in stitches. Their comedy transcended language and culture.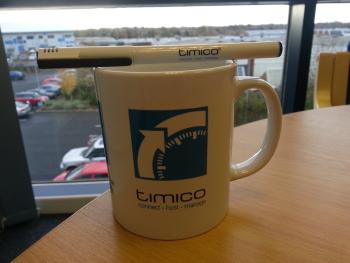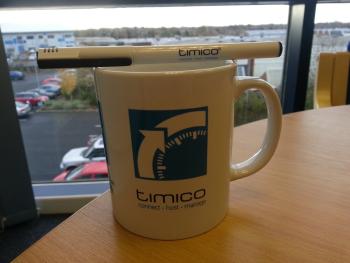 So how does any of this have anything to do with mugs and colo. It doesn't really. It's just the preamble to my latest and greatest mug giveaway offer. No competition this time. Just straight talking business.
I am offering a free Timico mug (the photo inset shows the mug with a branded Timico pen which I am also willing to throw in – just ask) to anyone buying colo from us between now and the end of 2012. It doesn't matter how much colo you buy but it has to be new business. As an added extra I will chuck in a free blog post on a subject of your choice for the first five orders.
The colo will be in our spanking new data centre in Newark. If you want to come and see it let me know and I'll organise a visit. Maybe you need some DR space or have run out of room in your existing rack or are exploring colocation for the first time. 24×7 manned Network Operation Centre? Look no further. We are the colo kids.
That landing page link includes a phone number to call or a button to press for a chat. Let me know when you have placed an order. I'll send you the mug and pen and we can chat about the subject of the blog post. It can be on any subject, within reason and decency though you will have to trust me with the final copy. There's also a mug for anyone referring a customer to us. Again, let me know you have done it.
Just a bit of fun. You know it makes sense 🙂