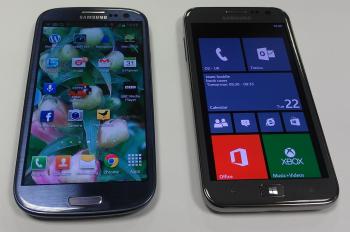 Cars always seem to look the same these days don't they? That's because they are all designed with optimum aerodynamic efficiency in mind. The result is a bit boring by and large and very challenging for an advertising industry that has to resort to increasingly off the wall ideas to differentiate their client's product.
The mobile handset industry has to some extent evolved along similar lines. After years of trial and error there are only a few mechanical designs that make sense, notwithstanding the fact that manufacturers keep suing each other for copying their rounded edge or single button.
Here are two Samsung phones. Clearly one is Windows8 and one is Android. The only real differentiation is in the software running on them. The time can't be so far off when all phones are pretty much the same, probably made in the same factories and with well established software and from a few global players. The applications sets will be pretty much identical on each platform.
All that will be left will be the challenge of how to differentiate one phone from the other – the pitch for cool factor. I was at a meeting yesterday where one presenter was clearly an Apple and Facebook enthusiast. I am not. I don't trust either organisation. I am a Google and Twitter fan.
There is no real reason why I should trust Google and Twitter any more than Apple and Facebook or even Microsoft for that matter. They are all after my money one way or another.
So that's it. The future of the mobile phone. I'd like go fast stripes on mine please…