This is your final free article this month
That's it. I've reached my limit on Telegraph reads this month. Henceforth I will have to read telegraph.co.uk in an incognito window. The telegraph doesn't stop access via incognito window because they depend on cookies to count page reads.  Cookies are blocked in incognito mode.
I tend to hop between the BBC, Guardian and Telegraph to home in on what is actually happening with a specific news item. I also read the cartoons on the Telegraph.
Part of me feels bad about this. It isn't unreasonable to pay the Telegraph for the service they provide. On the other hand this kind of stuff is available free from lots of of places online. It's the classic online media business model dilemma.
The pop up is somewhat bemusing. It comes up every time you surf the site in incognito mode. I only decided it was a good idea to write this post after I'd dismissed the box the first time so I closed the window and started again. Same box came up innit.
I never read the Times online btw because of the paywall. Dunno how they are getting on.
So there you go. If this is your final free article this month then there is another way…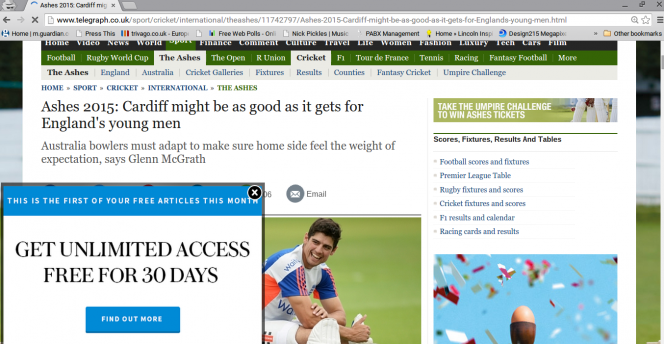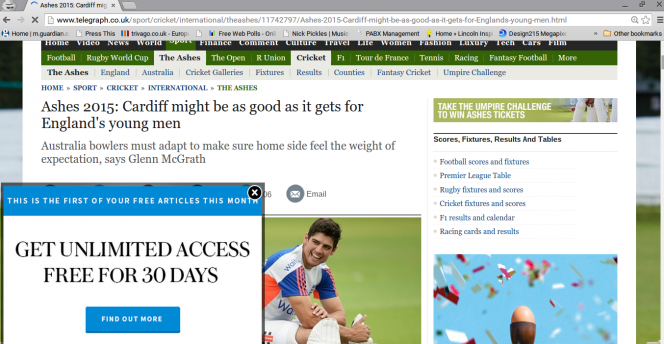 PS as I write Australia are 104 for 1 in the second Ashes test. You can see from the screenshot that I am interested in this. Not watching it on the Telegraph though, or the BBC for that matter. Cricinfo is the place. Cricinfo is free though I pay for the Beeb through the license fee.
PPS I am happy to make the commitment that trefor.net will probably never implement a paywall. Fill yer boots.
PPPS I'm going to see day 2 of the third ashes test on the Friday at Trent Bridge. See you there?