Storage space in line with forecast
Just realised recently that I get 5GB free cloud storage space with Amazon Drive. I also have two Google drive accounts with over a TeraByte of storage space available plus a small amount of storage space on both Microsoft SkyDrive and Dropbox.
I don't need all these but they have occasionally been useful, specially the Amazon space where I've had to resort to the Kindle Fire for my mobile browsing and photography. It's a slow device with a poor camera but it's a port in a storm.
It was whilst figuring out how to export the pics from the Kindle that I realised they were all automatically uploading to Amazon Drive. Not sure I set this up but I'm ok with it on this occasion.
I also have a ReadyNAS which is going to need some attention. I can see the folders but not individual files within them. Hmm. I suspect the folder sizes are getting to be too large. Before I lost my phone I'd used 13GB of mobile data – mostly just in the day I went to Wimbledon. It was 36GB in the first two weeks of May with Coast to Coast.
The backed up images are definitely in the NAS – it just needs more processor oomph and memory to properly manage/display them.
Will spend a little time looking around. Also need to upgrade my very old Fast Ethernet switch. Says something when you can get faster wifi than your fixed ethernet connection although that is more reliable. I have some time over the next couple of weeks before I head for the Isle of Man and other exotic locations.
Before I go I thought I'd take a peek back at a storage growth post wot I wrote almost exactly 3 years ago. In it I forecast the amount of storage I would need by year.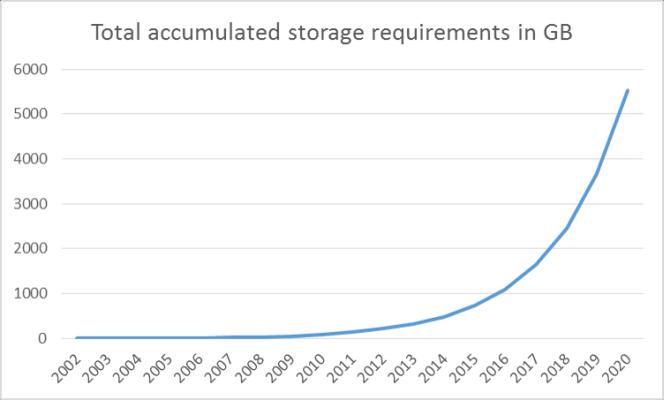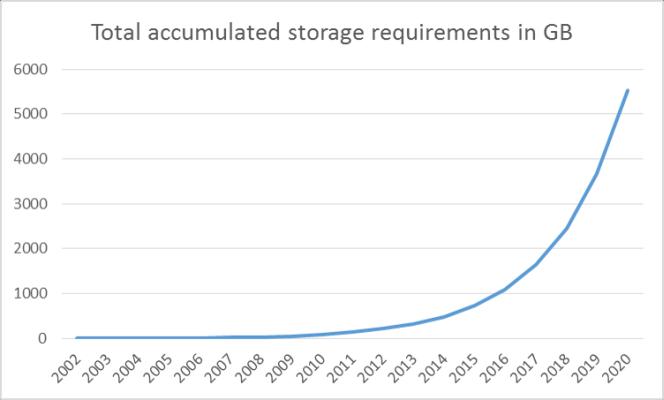 Amazingly I was right on the money. In July of 2016 I have used a TeraByte of NAS storage. Will have to start thinking about the upgrade soon. I used 100GB of storage for photos in just the April – July period this year. The NAS box can take 4TB drives so it is either a case of swapping the drives out or going for something with a bit more oomph anyway.