WhatsApp spam endemic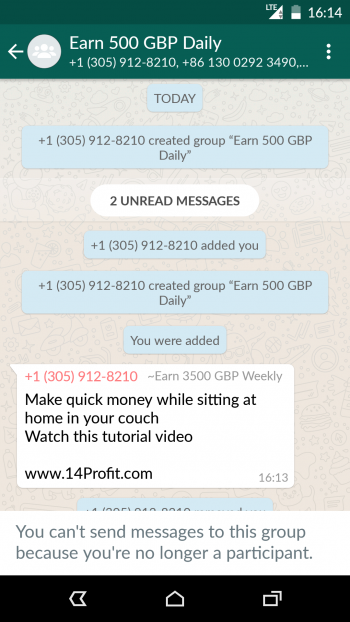 Aaaargh just received my first WhatsApp spam message. I don't even use WhatsApp though I do have the App on my droid. It's getting uninstalled right now.
The spam originated from someone who created a group , added me to it, sent the spam and then removed me from the group. Must be a machine in play there.
An App must truly be labelled useless if all it does is serve you with spam.
I also still get phone call spam. I spent much of this afternoon getting my Snom M700 DECT system working. Wasn't totally straightforward as it isn't a Voipfone supported device but they have some great engineers and we got it sorted.
So now our home phone number points at two Snom DECT handsets (kitchen and TV room), a Yealink (conservatory/office) and on the CSIPSimple App on my mobile. I was just running through the ringtone options with the family when a son told me my mobile was ringing. This was somewhat confusing as so was the phone I had in my hand. Trouble is I was trying out a ringtone when it happened so little old me got confused initially.
I eventually did answer the Snom only to find it wasn't a sales call from the subcontinent but a survey (from the subcontinent). The caller told me he was from a company called UK Surveys, or simlar. I asked him where in the UK he was and told him I didn't trust him so he put the phone down on me. Oh ok.
I told the family that these calls would start getting less frequent as I would be implementing call barring where the inbound number was withheld. This raised a chorus of complaints on the basis that the call might be important. My view is if a person doesn't have the courtesy to tell me their number they don't deserve to be answered.
Anyway we are now a landline-less household. The home number is virtual. It is the way of the future present. I am now also WhatsApp-less. A truly uninspiring experience. At least WhatsApp spam is no longer going to be receivable on my phone.
See previous tome on WhatsApp. If you get WhatsApp spam they have a page on the subject that isn't massively helpful.
PS I realise some of might not consider one spam message to be "endemic". I do.
PPS I'm back. Hols are over. They were great. Now I need to get some work done and lose some weight.