I know I keep going on about the lack of understanding of technology and the internet amongst the establishment. Another classic faux pas in this space has happened in the Labour Party Manifesto: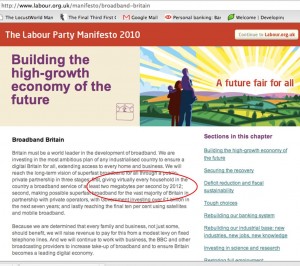 where they talk about a minimum broadband Universal Service Commitment of 2megabytes per second.
Most readers of this blog will be savvy enough to know the difference between megabytes and megabits. The latter is what they really mean, the former is 8 x the speed of the latter.
The point is that this is such a basic mistake that it just serves to highlight the total lack of understanding of technology. It also highlights why many MPs voted in favour of the Digital Economy Bill.