I know I keep going on about the lack of understanding of technology and the internet amongst the establishment. Another classic faux pas in this space has happened in the Labour Party Manifesto: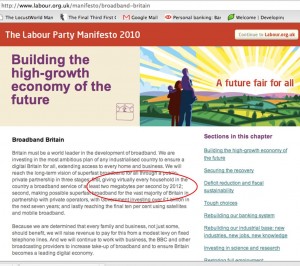 where they talk about a minimum broadband Universal Service Commitment of 2megabytes per second.
Most readers of this blog will be savvy enough to know the difference between megabytes and megabits. The latter is what they really mean, the former is 8 x the speed of the latter.
The point is that this is such a basic mistake that it just serves to highlight the total lack of understanding of technology. It also highlights why many MPs voted in favour of the Digital Economy Bill.
Traditionally telcos such as BT have provided the civil service with staff on secondment so that they could contribute to the general understanding of all things telecom. These days people with knowledge of the internet don't want to spend time in what is essentially a slow moving old fashioned environment.
And don't get me wrong I have met many highly competent civil servants. There just aren't enough of them who are technically competent to advise Government.
I also realise that it's easy to make a mistake with something such as megabits and megabytes. No civil servant will have helped with the generation of the copy so it doesn't matter how many technically competent bods there are in BIS (pick an acronym – any department will do).
It is however symptomatic of the wider problem and lack of understanding in people who want to control our lives. Lets be realistic career politicians will not necessarily have had the exposure to tech issues – clearly not in fact based on recent events.
If someone can suggest how we change this please feel free to leave a comment. I'd be willing to spare an afteroon to help the next Government whichever party gets in.