I am very pleased to announce that Timico Tech Support Engineer Faye Hemingway has won the First Annual Carrot Cake Bake-off. All entries were of a very high standard with Highly Commended Certificates being awarded to Sian Steen, Verity Rushby and the Will Curtis/Fiona Dickinson  team.
Pictured below is me congratulating Faye on her success and also the judges at work.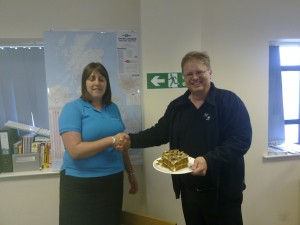 Thanks to everyone who took part.  The entries were sold off after the competition with the proceeds going to a local charity.