Sys Admins all around the world will this morning come in to their office to be greeted with a standing ovation by the rest of the business – all of whom will have got in early especially to make some nice fresh coffee, bake some croissants and place their tokens of appreciation in a heap on the desk of the said Sys Admin.
You can picture the scene of joy. The broad grin on the face. The feeling of deepest satisfaction knowing that despite the fact that most of the year all he gets is people grumbling at him, really they all love and appreciate what he does.
If you haven't got him (or her) a present yet just nip round to his desk and ask if there is anything you can do for him.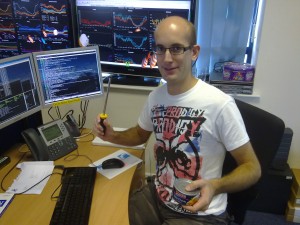 Note that our sys admin in the photo is clearly very happy with his new screwdriver and tin of tuna.  Some of them have been known to like beer, McDonalds, pizzas, KFC etc etc.  I leave it to you. You know your own sys admin best.
Today is System Administrator Appreciation Day. Find out more here.