Whilst I was on holiday the IPv4 Exhaustion counter ticked down another digit to 5% or 14 /8 blocks .
Nov 16 2009 10% – dropped through 400,000,000 mark
Jan 20th 9%
Feb 25th 8%
May 10th 7%
June 2nd 6%
August 5%
Currently we seem to be using a /8 block every three weeks. With 9 blocks left before we are down to the last 5 (at which point IANA will distribute these simultaneously to the 5 Regional Internet Registries) it looks like we have 27 weeks to go to IPv4 Exhaustion.
In my book this is February 2011 and not the June date reported by the Exhaustion Counter on this blog.
Anecdotally there is already a "private" market for IPv4 addresses and at last night's LINX meeting people already mentioned that availability of free IPv4 addresses was one of the criteria they used in looking at potential company acquisitions. Someone has even already put a block up for sale on eBay as an experiment (now withdrawn).
Whilst the world is not fully up and running yet with IPv6 the situation is not as bad as it may seem. The map below, produced in early 2010 by Timico's number one peering partner Hurricane Electric, shows that most countries (in grey) have some kind of IPv6 POP.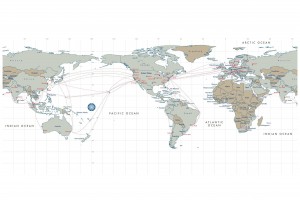 HE have a novel method of getting their partners to test IPv6 interoperability with them – by offering them T shirts. Note the sharp increase in test activity when the TShirt offer was made.

Thanks to HE Director of IPv6 Strategy, Martin Levy for the pics
You can track the actual number of IPv4 blocks available at the IANA website here.