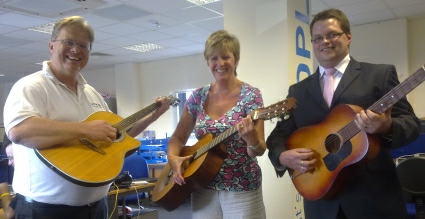 Had a visit from CMC Partnership today.  They are a fast growing provider of project management and consultancy services based in South Wales.  They are also a customer – it is great to meet customers and in particular as they work in such a diverse range of industries – one of the nice things about being a Communications Provider.
Ann Hallett and Lee James from CMC proved to be a very talented duo and great sports by joining me in a rendition of La Bamba by Los Trios Paraguayos. Readers will also remember the B side of the 1966 hit : Llama En El Cuerpo. We didn't play the B side.
The photo above is us (Los Trios Timicos) doing the reprise.