I'm not a gadget freak but I am surrounded by around 30 engineers who are and are always bringing something new in to show.
I'm particularly interested in the way that hand held devices are moving in respect of their use for business. Today Sian Steen reviews her new Kindle 3. As a book reader it isn't obviously a business tool but it falls into a category of handheld devices that will almost certainly encourage business uses.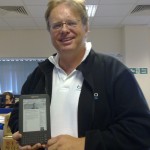 My own observations are that it is exceptionally good as an eBook – the clarity of the text was great – but it doesn't yet replace tablets such as the iPad and Samsung Galaxy. However the price point is so much lower than the tabs that I'm sure it won't take much evolution to make it compete in that space. The tradeoffs will be battery life in exchange for colour and touch screen.
Sian writes:
I've been waiting for a Kindle for a very long time. I'm not referring to the 3 week gap between pre ordering and the device arriving. The original Kindle was released (US only) in 2007. It sold out in 5 hours. I wanted one. Kindle 2 was made available to UK residents, but it was a cut down version.
After reading up about the original Kindle with all its fantastic features, I made up my mind that until I could have all of these things I would wait. Kindle 3 has everything the original Kindle had and more and all of it works on the UK version. It's been almost 3 years, and the wait is finally over. For me, the Kindle 3 is the definitive eBook reader.
Amazon have made it so easy to obtain books. There are 2 versions of the K3 to be had – a Wi-Fi only version at £109, or a Wi-Fi and 3G version at £149 – both very competitive prices. Either way, there's no need for a PC. The device is designed to work so that you never need to connect it to a computer. Browse the Kindle store straight from the device, download free sample chapters, buy a book from the store and start reading it in under a minute. Compared to other readers, where you would find your book, download it to your PC, upload it to your device, this is the most user friendly interface you could ask for.
There are, Amazon boast, over 415,000 books in the Kindle bookstore; however, this figure does not include the 1,000,000+ free books (mostly classics where the copyright has expired). Additionally, you can subscribe to magazines, newspapers and blogs. Still not enough? For a small fee (20p per MB), you can convert many other kinds of text file- simply email it to your Kindle email address and Amazon will do the rest.
In anticipation of my Kindle arriving, I visited the Kindle store and 'bought' a load of free books (I also downloaded the Kindle software for my iPhone and PC! Your library will sync between devices tied to your Amazon account). When the Kindle arrived, upon turning it on for the first time, the purchases I had made started downloading straight away! The Kindle is registered to the Amazon account it was purchased from, but if, for example, you've bought it as a gift for someone you can de-register it.
So how does it perform? It's everything I'd hoped for. I've used other eBook readers, and the rendering rate on the Kindle 3 is second to none. This is something that could easily put you off – taking a second or two to turn the page – but there's really nothing like that at all on the Kindle.
The text is really sharp, and the Kindle 3 introduces the ability to change the typeface, spacing and words per line, as well as the size of the text- there are 8 different sizes to choose from, compared to a paltry 3 on the Sony PRS 505! You can also change the page orientation, not only so you can have a 'landscape' view, but also upside-down if you ever felt the need. The Kindle will also display images, and the quality of the images is much better than other E-Ink displays.
Experimental features
There are a few experimental features on the Kindle to play with, including a web browser. This performs surprisingly well, and I can see this being something Amazon will improve on in the future. I don't think I'll be using it that much – I have other devices that do it a lot better – but if you need to jump on the internet quickly for something, it's handy to have. You can also link the device to your Facebook and/or Twitter account and share excerpts with your friends.
I was very interested in the read to me function, which is enabled in all Kindle books unless the publisher has specified otherwise. Using this, you can have the Kindle read to you (just like the name implies!) through the built in speakers or headphones (the Kindle has a 3.5mm stereo jack). This being another experimental feature, it's not very polished at the moment. There are 2 voices to choose from, a male and a female, but they do sound very computer generated. This is something I'd really like to see some work on in the future, as it could be really useful. There's also an experimental MP3 player built in- again, this is something that most people will have a purpose built device for, but it's a nice idea!
The build quality of the Kindle is good. Although it does look like it could be quite flimsy it's actually rather solid. The buttons are satisfying to press, not at all plasticky. There are 4 page turn buttons, a QWERTY keyboard and a d-pad.
Using this keyboard, you can search a body of text at any time by just starting to type. This includes searching 'my items', where the Kindle stores all your titles. There's no way to sort this list, which is a bit of a shame, though something which could be easily remedied with a software update. This is where the search function would be useful – I'd hate to have to scroll through hundreds of books to find a particular title!
Battery Life
Charging the Kindle fully will take about 4 hours with the AC adaptor, longer if you charge it using the USB cable. The battery life will vary depending on what it's being used for, but Amazon say that it will last for up to ten days with the wireless on. Turn the wireless off and they reckon up to a month. When you're reading on it, the only time the battery will deplete is when the display is being redrawn. For this reason, the K3 doesn't turn off properly and only ever goes into standby mode. When in standby, it presents you with pictures of famous authors and book covers. Flick the switch again and it's back – protected with a password too, should you desire.
I'm very happy with my purchase, and I would urge anyone who is considering a reading device to check out the Kindle first. I understand that eBooks are not for everyone. Just as there are some people who still buy CDs there will still be a lot of people who will still prefer to read 'proper' books.
However I feel that in terms of price, availability and ease of use, Amazon really have got a good thing going, and if they're not already they will soon be the kings of the e-reader market!