The story of Next Generation Broadband Access into the Final Third has to be all about the Digital Village Pump. The phrase has a certain flow to it but this is not about water. This DVP is about bytes.
The concept is that you run a fibre into a village and it terminates into a secure "datacentre" owned and run by the local community.  In the picture below the DVP is tucked away nicely at the back of a building in the centre of the village.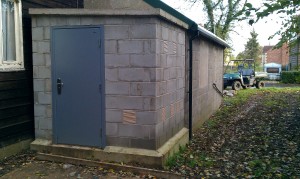 The DVP is air cooled with minimal ongoing maintenance and running costs.
How you get the fibre into the village in the first place is going to be different for each community.
There is very often an existing fibre run in an area – serving a school for example. It is not untypical for such runs to have multile strands of fibre, most of which are unused. This just needs identifying. It maybe a wireless feed.
How that community then distributes the connectivity is up to them. It isn't necessarily feasible to expect people with no experience of data networks to do this themselves but the idea is that they engage a management company to look after the network and provide the service.  The ongoing cost of this is covered by the monthly line rental charge paid by participating villagers.
As a rural community, provided the initiative is supported by the main landowners, it is a lot easier to run fibre than in cities. There is no planning permission required to run an utility along the edge of a field. It is necessary to make sure all the relevant wayleaves are obtained which can be time consuming but this is where the cooperation of the landowners comes in.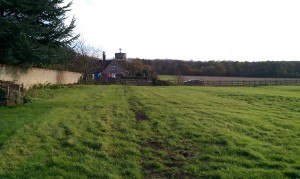 The village either raises the monies required for the installation itself, uses outside investors or raises funds through funding mechanisms provided by Government, EU etc.
In this way it seems a lot easier to build a network in the countryside than in a town because you are avoiding some of the major obstacles such as the need to dig up roads and fit in with Local Authority planning and works windows.
At the end of the day there is nothing difficult about laying down a network.  It is not a black art. It is mostly just planning and digging. The activity can also be made more economical with the support of the local authority which can waive rates due for fibre runs. There is a great deal of sense in doing this because once the internet connectivity is there investment in other infrastructure will come: the conversion of farm units to take other buinesses for example.
The community does need a partner that understands the ins and outs of the business and at Ashby they are fortunate to have NextGenUs working with them. If you are looking at help with getting access to your community I would get in touch.