My recent post on the pocket cloud was a joke. Today I have taken delivery of a real pocket cloud. It's a Samsung 2.5inch portable external hard drive and it cost 54 quid! My aging laptop has a 232Gig hard drive that is almost full. That apart it is a perfectly good laptop and I didn't see the point of getting a new one. I also didn't want to delete anything and likely start the faff that would be the periodic decision making process on which files to ditch and which to keep.
Problem solved. I am now just moving my least used files onto the external drive.  They will be mostly photos and videos that are also backed up elsewhere.  It is certainly arguable that many of these files are not work related but it is difficult to separate the two lives.  Consumerisation entering the workplace again.
Storage is now so cheap that there is almost no reason for anything to be thrown away ever. Also I think I have become a Samsung fan 🙂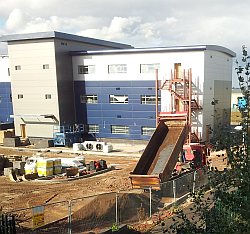 On a different note our carpark is almost full today. A sure sign that the summer holidays are well and truly behind us. It won't be long before we are overflowing into the new carpark behind the new data centre build.
Photo is a perspective from the first floor of the Timico HQ building.
PS any bets on when I will fill the TB drive?