As I gaze into my crystal ball the mists are swirling, swirling.  Now they are disappearing. Ah, it is all clear.  I can see blue skies. I can see people dancing, holding aloft their smartphones and tablets. Waving. Everyone is happy. Where is this mythical land where the rivers flow with champagne/beer/cappucino (delete as appropriate)?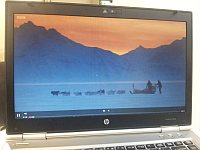 It is here, where you and I live. In Blighty. Home.
I have just come back from O2's offices in Slough where I had a play with 4G on a laptop. The jpg in the header photo shows the download and upload performance. The speed varies but does go as high as 80 – 85Megs down.
The laptop I was using only needed 7Megs worth of bandwidth for its day to day activities – email, streaming HD etc so there is plenty of headroom when considering personal use. It is easy however to imagine this service being used as a replacement for fixed line bandwidth where a family would certainly use up all the bandwidth available. Also who knows what bandwidth hungry applications are round the corner. They will come.
The demo is impressive. The photo inset was taken from my Samsung Galaxy 2 so isn't a screenshot and the quality could be better. It doesn't matter. I watched Frozen Planet streaming in HD on iPlayer – no buffering, perfect quality.
O2 has recently announced 4G trials in an area of London between Kings Cross and the City. I am taking part. Watch this space for up to the minute information on 4G.
I have seen the future. The future is 4G.