Just had yet another film crew in. You know what it's like.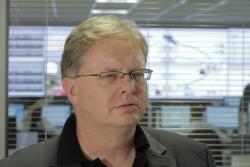 Early start,  breakfast provided by the outside catering company. Shoot a few scenes followed  by bacon sandwich. Bit more then 3 course sit down lunch – it's hungry work this location based filming1.
This one was from Dell. They had flown into Manchester from Paris and took a 2 1/2 hour taxi ride from the airport. Should have flown into East Midlands – shorter flight and 1 hour taxi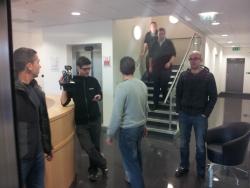 ride. Ah well. One of them said he had eaten pizza with snail topping at the airport hotel last night – home from home perhaps? Unusual at least, for Manchester which is clearly becoming a cosmopolitan place to be – must be the effect of moving the BBC up there..
Anyway we had a good shoot, as those of us in the trade say, and they are off home now to sort out the first rushes – another "in" term – at least it was in the good old Metro Goldwyn Mayer days.
The new data centre investment has been attracting a lot of attention from business and technology partners looking to produce case studies. It's good free publicity and we do it ourselves.  The header shot was taken with my Galaxy S2. The headshot of me was taken with their camera – slightly different quality level wouldn't you say. They also had a big Hollywood style movie camera but said that the smaller one was better – progress huh.
1 actually none of the above though it was like that when I filmed "Experience preferred but not essential" one summer when I was a student. Youtube extract below (not including me for some reason – I was an extra and got £10 plus food for the day's filming which took place in 1982 Ramsey in the Isle of Man). Here's a snippet from the film on YourTube