What a difference 6 months makes. Went to Skeggy today with son Joe. It was packed with tourists enjoying the 26 degrees heat of the British summer. Can't say it was bracing at all. There was a gentle offshore breeze which made it very pleasant.
Interesting to compare the scene with February when I presented the RNLI with their £6k cheque following the world record attempt for most comments on a blog post.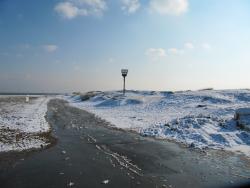 The pic on the left is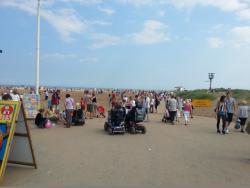 the scene in February and the one on the right was today.
If you've never been you should go to Skegness – in August obviously. It's a great British family seaside day out – beer ice creams, fish and chips, deckchairs, amusements etc etc.
Make sure you take plenty of sunscreen 🙂